Egypt attacks will not prevent Pope's "mission for peace"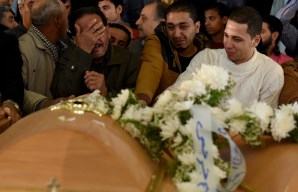 Coptic churches in Egypt were victim to extremist attacks
 ROME-- The Vatican has said Pope Francis will continue with his visit to Egypt later this month despite raised security fears following the deadly terrorist attacks on churches. 
 Archbishop Giovanni Becciu, a top diplomat at the Holy See's Secretariat of State, said the Pope is sticking with his plan to make the trip to Cairo on 28-29 April, where Francis will address a conference on peace at the famous Al-Azhar university. 
 "What happened causes confusion and great suffering but it cannot prevent the Pope's mission for peace," the archbishop explained in an interview with Italian newspaper Corriere della Sera.
 "Without hiding from reality the Pope invites us to look to the future with hope. And as always he wants to led by example."
 The Palm Sunday attacks on two Coptic churches killed at least 44 with fundamentalist group Daesh - Islamic State -  claiming responsibility for the atrocities. 
 Archbishop Becciu stressed that dialogue with the Islamic world was a way of "isolating" extremists and that the Pope wanted distinguish between acts of terror and the Muslim faith, something which has gained him the respect of Arab leaders. 
 "The honesty of his positions have earned him the gratitude of Muslims," he explained. "Many Islamic authorities have met the Pope to thank him, while many others have written to express admiration for his moral authority."
 Archbishop Becciu is the Secretariat of State's "sostituto" which includes diplomatic work with countries with embassies to the Holy See, acting as a senior adviser to the Pope and helping to run the Roman Curia internally. 
 He pointed out that the Pope has travelled to dangerous places in the past including the Central African Republic, a country that was in the grip of a civil war when Francis visited. When it came to Egypt Archbishop Becciu said the Vatican has been assured the trip will move ahead smoothly. Following the attacks on Sunday, President al-Sisi declared a three month state of emergency and ordered the army to patrol the streets and guard places of worship.  
 When he is in Egypt Francis' meetings will take place in secure and tightly-controlled locations while the papal Mass will be celebrated amidst high security at a closed stadium of Cairo attended by around 30,000 faithful. 
 The security situation, however, remains precarious with a rise of violent jihadism in parts of Egypt following President al-Sisi's coup overthrowing the Muslim Brotherhood-led government. 
 The Coptic Christian community, which make up about 10 per cent of the population, have long complained of feeling vulnerable and marginalised and the Pope is being urged to speak out about their plight during his visit.
This first appeared on The Tablet