Foreign media representatives visit Vatican exhibitions
Journalists at the exhibition with Carmen del Vando Blanco, head of culture; Umberto Utro, curator; Chiara Fornaciari da Passano, restorer
 VATICAN CITY - A group of foreign press correspondents in Rome recently visited the exhibition "Dilectissimo fratri Caesario Symmachus. between Arles and Rome: the relics of St. Cesario, treasure of the early Christian Gaul "and had the chance to see some new renovations in progress of important works in marble and paper at the Pio Cristiano Museum.
 Strong and old historical ties, between the French Arles and Rome, led the Vatican Museums - and particularly the Christian Antiquities Department - and the French Musée départemental Arles antique to plan and set up in the Vatican spaces of the Pio Cristiano Museum, until June 25 2017, this small but precious exhibition which, from its title, has the purpose to evoke the strong dialogue and relations of proximity between the Provencal town and Rome since the early Christian time.
 The exhibition, the first to be opened by Barbara Jatta, new director of the Pope's Museums, has been curated by Umberto Utro, head of Christian Antiquities Collection, by the department assistant Alessandro Vella, and by Claude Sintès, director of the Museum Departmental Arles Antique.
 The exhibition, which inaugurates a fruitful scientific collaboration between the two cultural institutions, also intends to emphasize the important symbolic value by paying a tribute to Cesario, bishop of Arles at the beginning of the sixth century, a great humanist, a great saint, a great scholar who, at his time, was received by king Theodoric in Ravenna and in Rome by Pope Simmaco.
 The five sections which make up the exhibition offer a comparison, in a kind of "dialogue between art collections", among the relics of St. Cesario and the testimonies of his worship - all of Arlesian and Provencal origin - with works from Vatican collections, except for a gold necklace with Christological monogram now at the National Roman Museum. The show has also a precious code of the Carolingian period (an outstanding loan from the Biblioteca Apostolica Vaticana) with the text of the letter that Pope Simmaco wrote to Cesario and whose opening words inspired the title of the exhibition.
Exhibition: "Dilectissimo fratri Caesario Symmachus. Between Arles and Rome: the relics of St. Cesario, treasure of the early Christian Gaul"
Place: Pio Cristiano Museum, Vatican Museums
Period: March 24th - June 25th, 2017
Admission: free and included in the admission ticket to the Museums
Hours: the same of Museums' (hours 9:00 to 16:00 and closing at 18:00)
Free entrance to the Vatican Museums and the exhibition last Sunday of each month.
Hours: 9:00 to 14:00, last admission at 12:30 pm
All photos taken by Gianfranco Nitti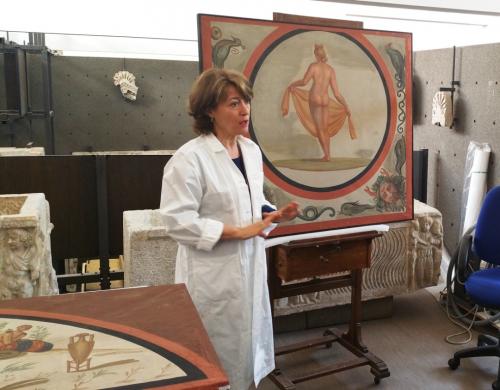 Chiara Fornaciari, paper restorer at Vatican Museums
Reliquary of St Cesario 1429, Arles Museum