Pope Francis urges Prince to be "man of peace"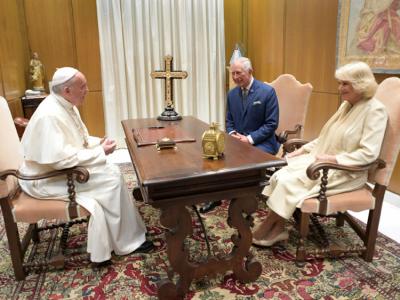 Pope Francis with Prince Charles and The Duchess of Cornwall
ROME—Italian media have paid tribute to the heir to the British throne describing him as "the prince who defies conventions" as Prince Charles comes to the end of his tour of Italy. On Tuesday, The Prince and his wife, the Duchess of Cornwall, were given a private audience by Pope Francis, in which he urged the Prince, "Wherever you go, may you be a man of peace."
 "I'll try my best," replied Charles.
 The couple were visiting Francis in a hall close to his residence in the Vatican City.
 After a private message from the Pontiff the two parties exchanged gifts, as is traditional, with the royal couple offering the Pope a large hamper of produce from his Highgrove estate. In return, Francis gave Charles a bronze olive branch as "a symbol of peace", as well as copies of his extended writings on climate change bound in red leather.
 This is the second time that the Pontiff has been given a hamper of food by the British monarchy as the Queen gave him a similar gift when the pair met in 2014. Prince Charles admitted that, 'it's difficult to know what to give your holiness' as he handed the Argentine his offering.
 The Prince of Wales described Francis' gift as "a real treat." The pope believes that climate change is a result of human activity and has been vocal on the matter in recent years, his writings on the subject were translated into English and presented to the couple in red binding.
 The atmosphere between Pope Francis and his royal guests appeared affable and warm.
 Prince Charles and Camilla are to spend Wednesday in Rome, where they are to visit the FAO and meet with Italian president Sergio Mattarella, before finishing their European tour in Austria.