Idyllic wellness centre in Irish countryside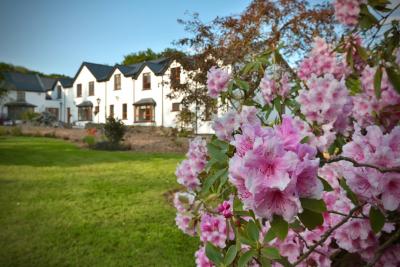 Creacon Lodge is surrounded by lush Irish countryside
 WEXFORD--Creacon Lodge, set in the lush countryside of Co Wexford has been receiving guests for almost 200 years. Originally a hunting lodge, the creeper-clad two storey building has recently been extended and transformed into a plush wellness retreat.
 Bought in 2006 by internationally renowned motivational coach Derek O Neill and his wife Linda, the building has been sympathetically extended and now boasts 15 ensuite bedrooms, treatment rooms, meditation hall, restaurant and several cosy sitting rooms and quiet nooks. Today the shelves and counter-top of the lodge's original bar host books on a range of subjects from spirituality to mindfulness and healing systems from India, Tibet, China, Japan and Europe.
 The reading material also includes many books and pamphlets by Mr O Neill who is the founder of the not for profit organisation, the SQ Foundation, which supports charitable projects in 12 countries. In 2012 Derek was honoured as Humanitarian of the Year by Variety International the Children's Charity and in the following year he was named vice president of the charity.
 The range of subject matter in the library is reflected in the variety of therapies available at the lodge which are designed to "balance the mind, body and soul". Individual treatments include massage, reflexology, acupuncture and facials. There are group classes in yoga, meditation and mindfulness and psychotherapy, hypnotherapy and NLP sessions are also available. Oracle, numerology and angel readings can also be booked.
 Personal relaxation, rejuvenation and healing is the goal.
 Creacon has put together a selection of "retreat packages" combining one-to-one and group sessions. Among them is a one-day mindfulness and yoga package which includes meditation, Tibetan bowl and mindfulness classes. The two-day "relaxation" package provides massage or energy therapy, meditation and infared sauna. However, guests are encouraged to customise their own package according to their particular needs. Long-term stays are also welcome
 Common to all overnight packages is the relaxed ambience of Creacon. Each bedroom is individually decorated and furnished with a smart ensuite bathroom. Attention to detail includes shower water with an optimum ph balance of 6.8 -7.5.  Kangen ionized water for drinking (PH 8.5) is also available in carafes in each bedroom and it is served in the restaurant.
 No children are allowed and guests retire to their rooms at 10 p.m. There are no TVs in the rooms, just very comfortable beds, cosy chairs, soft lighting, plush carpet and great views over the extensive gardens of the lodge and beyond to green fields.
 Much of the character of the old lodge has been retained in the 1.5 million euro refurbishment and today guests can wander as they please from large sitting rooms with comfortable sofas and wood-burning stove to smaller nooks with pretty window seats and reading lights.
 The restaurant which is headed by chef Geatano Pernagallo, is also a relaxed space where guests can choose to eat alone or as a couple at small tables or opt to eat together around a large table. At Creacon, food is central to everyone's stay. Daily menus, mostly vegetarian, are devised with well being in mind. There is also a "Food is medicine" progamme in which knowledge of the medicinal properties of food are combined with top-class cooking skills to produce delicious meals. (Fish, chicken and wine are served on request)
 Creacon's 3-day Juice Cleanse package is proving to be one of its most popular, particularly with guests from Northern Europe. The program consists of breakfast smoothies, cold pressed juices, vegetable consummés and herbal teas. Guests receive daily meditation themes and are advised to spend the second day in silence. As Creacon is set in rolling countryside, total silence is achievable.
 Other very popular programmes are two/three or four-day retreats which combine personal transformation workshops, group yoga and meditation classes, wellness workshops and nutritious meals from the "Food is medicine "programmes. Creacon staff are happy to customise packages to suit individual guests and groups.
 According to general manager Salvo Rizzo, Creacon Lodge is a unique destination as it offers such a wide-range of classes, therapies and packages. "We cater for lone travellers, couples and groups and we can arrange a package that is tailored to everyone's needs". he explained. The lodge is open all year round.
 (Incidentally Creacon's Italian connection through Salvo and his chef colleague Gaetano is a result of marriages to Irish women. They met their respective partners in London and Italy and were persuaded by them to set up home in Ireland.)
 In addition to welcoming guests from all over the world, Creacon Lodge is a much-loved wellness centre for the local community. All the facilities are open to locals and are well used by them and as a result, visitors relaxing after a class or a massage can enjoy a friendly chat with people who live and work in the area.
 Such conversations at Creacon will inevitably turn to hurling, the fastest field game in the world and unique to Ireland. A form of aerial hockey, it has been played for at least the last 2,000 years and features in many ancient Irish legends. Teams of 15 use broad sticks to propel a hard, leather-coated sliothar the size of a baseball or cricket ball with amazing skill and accuracy. Creacon lies at the heart of hurling in Ireland, where counties Wexford, Waterford and Kilkenny meet, all former all-Ireland (and therefore world) champions, and local people are naturally proud of this status.
 As well as the hurling, locals will also direct visitors to favourite attractions around the lodge. Creacon is about six kilometres from New Ross town, home to the Dunbrody Famine Ship, a reproduction of a 1840's emigrant vessel. It is also located close to the home of the forefathers of US president John F Kennedy. There is a Homestead Visitor Centre with a state of the art interpretative exhibition which looks at the circumstance of Patrick Kennedy's emigration from Ireland in 1848. The nearby JFK Memorial park and Arboretum has a plant collection of international standing on a 252 hectare site.
 Further afield there is the beautiful Hook peninsula with lighthouse which it is claimed is the oldest intact operational lighthouse in the world. As well as guided tours of the lighthouse, there are wonderful walks with spectacular scenery all around the peninsula. And of course as Creacon is in the "ancient south east" of Ireland, there's an abbey dating from the 12th century, a 16th century Fort and a few ghosts at the large mansion of Loftus Hall!
 Creacon is about two hours drive from Dublin airport. Public transport is available but not an easy option. Creacon Lodge staff can advise on all transport options including taxi and car hire.
 Website is www.creaconlodgewellnesscentre.com Tel 00 353 51 44766.
 Derek O Neill is a internationally recognised humanitarian, transformational therapist and motivational coach. He has written many books including "The Truth Will Set You Free" and most recently has published a series of self-help booklets. He travels the world giving talks, classes and private consultations.
The rooms are cosy and welcoming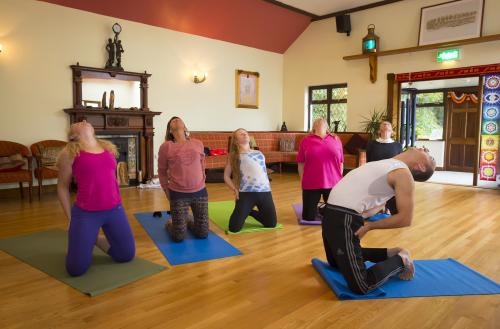 Various wellness classes are offered at the lodge