Exclusive: IFAD staff hail Nwanze departure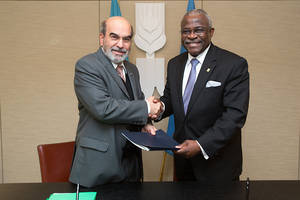 Kanayo Nwanze and FAO DG José graziano da Silva
 ROME -- With overbearing IFAD President Kanayo Nwanze ending his second and final term at the UN agency Friday, staff were counting the hours to the end of his reign of terror with many planning to break open bottles of spumante and champagne to celebrate the departure of the reviled Nigerian potentate, IFAD sources say.
 "Terrifying bullying and harassment began a short time after Nwanze took over in 2009," one senior staffer told Italian Insider, speakimg on condition of anonymity. In staff meetings Nwanze berated and spoke down to the staff association chairman and members, screaming 'Who are you? I am the president.'
 Then, when all his staff were too cowed to ask questions, he would taunt them -- 'Come on, ask me a question. I'll give you 10 euros if you ask a question.'
 During his eight years on the IFAD throne, the agency came to be known as the International Fund for African Development, a clear departure from its mandate. The kingpin surrounded himself with acolytes from his continent, rewarding many from the African Union and embassies in Rome who had campaigned for his election.
 Like Ugandan dictator Idi Amin, he pursued a vendetta against staffers from the former British Empire and other former European colonial powers. Once installed in office under tight security, Nwanze compiled an 'execution' list of 45 non-Africans to be ousted from senior jobs. Legal advisor Rutsel Martha was asked to find dirt on the 45 to justify sacking them but honourably told his master than no legitimate cases could be concocted.
 Nwanze then ordered Ethics Officer Olivia Graham, a burly former sergeant major in the U.S. Army, to begin investigations against the 45 in a widening purge that eventually touched as many as 40 percent of the staff, the sources said.
 Staff were encouraged to spy on each other and make denunciations worthy of the NKVD in the Stalinist purges. Unfounded charges of harassment were fabricated against Thomas Elhault, one of the outspoken directors who dared to stand up to the Nigerian egomaniac.
 Ms Graham was rewarded with promotion to D1 on over dlrs 200,000 a year plus perks for her unsavoury work. But when she decided to jump ship to the IMF soon after a furious Nwanze tried to have her demoted for disloyalty, to no avail.
 Against this background, UN permanent representatives believe Nwanze should be investigated for abuse of power, fear mongering, bullying and harassing senior staff as well as junior and middle level underlings, abuse of authority, misuse of funds for his luxurious private residence and for damaging the reputation of an international organisation that had otherwise been efficient with a respected track record.
 jp