Veuve Clicquot sponsors women's Michelin prize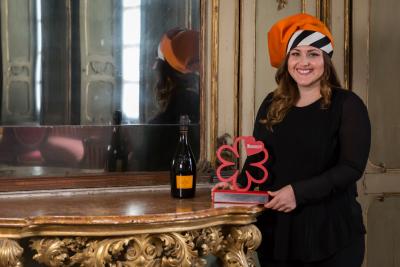 Caterina Ceraudo awarded the Premio Chef Donna Michelin 2017
 MILAN-- 'Atelier des Grandes Dames', a Veuve Clicquot initiative, announced sponsorship of the 'Premio Donna Chef Michelin Italia 2017', a prize which celebrates the most accomplished Italian female chef. The prize was awarded to Caterina Ceraudo, from the restaurant 'Dattilo di Strongoli', which has one Michelin star.
 Ceraudo was awarded the prize on the basis of her Michelin values, considered tenacious, innovative and enterprising.  
 Last year, Veuve Clicquot launched the project 'Atelier des Grandes Dames', a network created to recognise female talent in the culinary sector. The project was inspired by the figure of Barbe Nicole Ponsardin, Madam Clicquot, who at only 27 years old became the first woman to create her own champagne brand, conquering a very male dominated sector.
 Carlo Boschi, the Senior Brand Manger at Veuve Clicquot reaffirms the project's mission, stating that 'with Atelier des Grandes Dames, Veuve Clicquot…wants to celebrate and support women chefs, so that their passion and creativity, as well as their hard work, can stand out'.
 In addition to their sponsorship of the Michelin prize, the company is fulfilling the promise of their initiative by creating a video project about the lives of various female chefs. The film aims to communicate, in an effective and emotive way, how women make a difference to the world of haute cuisine, bringing their competence, courage, and creativity to the table.
 The women who form part of this network are chosen because their values coincide with those of the Madam Clicquot.