Rugby wooden spoon for winless Italy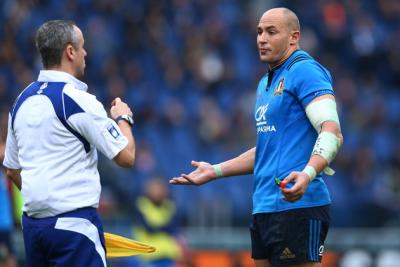 Captain Sergio Parisse was unable to lead his side to a single point
 ROME- After a greatly disappointing 2017 Six Nations campaign, Italy received the wooden spoon for the second year running as their victory drought in the competition extended to two years.
 On paper, this year's tournament has been an unequivocal disaster for the Azzurri. Ticket sales have slumped, the results have been unflattering and their future inclusion in the competition is under constant media scrutiny. What steps should the Italian Rugby Federation now take to address these salient issues? And does Italy merit its place in such a great tournament?
 Based on this year's results, it's difficult to defend the criticism they have received. The Italians failed to finish a single game within 20 points of their opponents and the new bonus point system introduced this year, rewarding narrow defeats, was of no help to them as they were torn apart in the latter stages of their games.
 You don't have to search hard to discover where the problem lies.  Italy have conceded nearly 70 percent of their points in the second half and an average of 20 points in the last 20 minutes. This is a staggering statistic and a stark contrast to their largely encouraging first half performances. In fact, the Italians were leading at half-time against both England and Wales, and were in touching distance in their other games, with the exception of the 63-10 rout they received from Ireland. These are undoubtedly positive signs for the Italian coaches, but they must eliminate the basic errors that perennially blight their latter stages if they are to move forward.
 Their final game against Scotland was a perfect example. For much of the game there was very little between the teams, but three missed kicks at goal and failure to convert simple two-on-one overlaps left them without a single point on the board. The 29-0 scoreline flattered Scotland but it is a results business and head coach Connor O'Shea knows that.
 O'Shea has remained positive in press conferences; he highlights the potential of the squad and is quick to point out that Italy are in the midst of a long-term project.
 The worry is that the Azzurri are not the only side looking to improve.
 Both Georgia and Romania showed signs of promise in the last World Cup and many have called for a relegation system to allow these sides the opportunity to compete with the best. Perhaps it is time for change. Rather than relegation, I would prefer to see an annual pre-tournament qualification. That way there could be no debate as to which side merits its place in the tournament.
 Rugby fans around the world will want to avoid a repeat of the bizarre defence tactics employed by the Italians when they travelled to Twickenham. England head coach, Eddie Jones, labelled them as a "joke",before adding, "if that's rugby, Im going to retire". Whilst it was perfectly within the rules, it didn't make for an entertaining spectacle and is not in the interests of growing the game globally.
 It's not all doom and gloom though. Whilst Italy have not won a Six Nations game since 2015, an historic 20-18 victory over South Africa in autumn shows that this side can compete with the best on their day.
 Connor O'Shea will be hoping for more of such days in the future. He has spoken about trying to get his team to play with more confidence, a trait evidently lacking at times during this year's campaign.  If he can somehow instil into his players a winning mentality, coupled with a fearless approach, then perhaps we will see some more upsets in the future.
 O'Shea must continue to take what positives he can from the tournament and there is no denying his dedication to the project. But dedication is one thing and results are another. Italian rugby fans will be desperately hoping for more success next time out as they attempt to banish this year's disappointing campaign to the annuls of history.