UK Embassy holds 'Women in the Workplace' discussion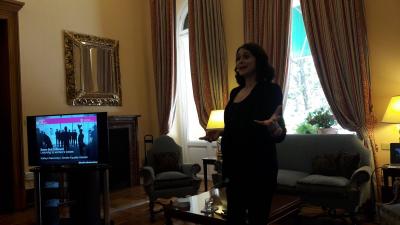 Kathryn Nawrockyi led the afternoon's discussion
 ROME -- The British Embassy has held a round table discussion entitled 'Women in the Workplace: Progress and Opportunities', to mark International Women's Day, and the appointment of the UK's special envoy for gender equality. "Only when we get an even playing field can we play on equal terms" said Kathryn Nawrockyi, Gender Equality Director at the NGO 'Business in the Community,' who spearheaded the discussion on Friday at the Villa Wolkonsky, the British Ambassador's residence.
 Throughout the afternoon, she explored issues surrounding gender, specifically those relating to intersectionality. The BITC website describes intersectionality as "a way of understanding the intersection where different parts of our identity meet and how this can result in different, unique forms of privilege or exclusion".
 For example a black woman who is also a member of the LGBTQ+ community would be more victim to societal oppression than a white middle class woman. Nawrockyi emphasised, therefore, that we must acknowledge, and discuss, the experiences of all women before we can talk about equality.
 One of the ways in which she, as Gender Equality Director, has promoted intersectionality is through BITC's 'Same but Different' project, in collaboration with the photographer, Leanora Saunders. The campaign displays images of different women in their daily environment, coupled with their narratives. With these stories, the NGO looks to challenge the stereotypical imagery and language often circulated surrounding women in the workplace. It looks to emphasise that "women" is not a homogenous group and, by celebrating their different experiences, it "brings to life the concept of intersectionality for employers".
 The inspiring 'Same but Different' pictures acted as springboard for further discussion, with many women sharing their ideas about, and experiences of, gender inequality. One key observation was that women are constantly battling against a system that wasn't built by them, or with them in mind. How can we ever really progress, therefore, when the structures in currently place are so inhibiting?
 We hit upon the importance of both education and visibility. It is vital to educate both girls and boys, from a young age, on the issues of gender. Specifically, we must teach girls how to navigate the system as it currently stands and achieve the best possible results for themselves.
 Using projects like 'Same but Different' we make visible the issue of gender equality and highlight the diversity of women as a group. Beyond promoting education and visibility, we must also challenge the structures working against women.
 Some suggestions included making all companies abide by a quota system by which they have to employ more women in directorial roles; encouraging both men and women to take parental leave, and, most importantly, taking an intersectional approach when confronting gender inequality.
 As a 20-year-old student, about to enter into the workplace, I found the discussion both depressing and inspiring -- depressing that we still have such a long way to go before we achieve gender equality, but inspiring that there are so many people, like myself, keen to tackle the issue head-on. 
 To see the 'Same but Different' project in full, visit www.samedifferent.org.uk
jp-tn