Outrage as Italy fails to criminalise torture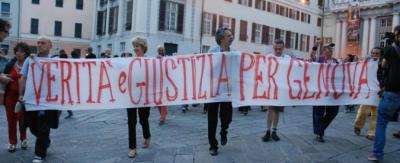 Italy fails to provide an adequate response to 2001 raid on Armando Diaz
 ROME--The European Council of Ministers criticised Italy's failure to implement laws which effectively criminalise acts of torture.
 The legislation continues to be overlooked by the Senate, in spite of definitive action being promised repeatedly in the past few months.
 The European Council has deemed insufficient the measures taken by Italy to respond to the condemnation sentence issued by the European Human Rights Court in April 2015. The European Council has issued a statement saying that, "Italy must, without any further delay, introduce measures which criminalise torture and humiliation, ensuring that there are adequate sanctions and that the perpetrators cannot remain unpunished any longer."
 Among the first reactions was that of the President of the Associazione Antigone, Patrizio Gonnella, who declared the inaction a scandal: "it's scandalous" he commented "that Italy creates obstructions for international organisms and it is scandalous that our country doesn't allow for torture, a crime against humanity, to be criminalised… Soon the United Nations will issue a new warning and the Strasbourg Court new condemnations. Our international credibility is threatened."
 Two years ago the judges from the European Human Rights Court decreed that Arnaldo Cestaro had been a torture victim during the raid at the Diaz school, which took place July 2001, at the end of the G8 Summit in Genoa. The Council of Ministers "notes with concern that in spite of the clear indications set out in the sentence form the Strasbourg Court, current Italian legislation is still not equipped with penal measures that enable the adequate sanctioning of those responsible for acts of torture and other forms of ill treatment, as forbidden by the European Convention of Human Rights."
 The President of the European Council reiterates that a bill concerning the matter was signed in parliament and therefore asks "the authorities to act urgently to complete, without any further delay, the legislative process, to ensure that the national law sanctions all forms of treatment prohibited in Article 3 of the European Convention of Human Rights, and that the perpetrators of such acts can no longer benefit from measures incompatible with the law of the court". 
TM