Bit Trade Show to unite territories and industry players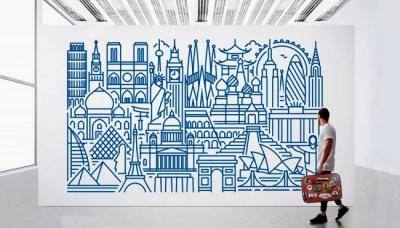 MILAN-- It is no coincidence that this year, Bit 2017 will open on Sunday, the 2nd of April, at the same time as the closing of miart – Milan's prestigious fair of modern and contemporary art - and will end on Tuesday, the 4th of April, on the occasion of the opening of the Salone del Mobile, which marks the beginning of the world's most popular design week.
 Indeed, this year's Borsa Internazionale del Turismo returns to Milan's fieramilanocity, demonstrating the travel exhibition's desire to be even more integrated in the Milanese social fabric. Its new formula sets out to provide an effective response to the developments in tourism, with the focus increasingly shifting to travel as experience and lifestyle.
 "As already successfully implemented with the various Fashion, Design, Art and Food Weeks," says Roberto Rettani, President of Fiera Milano Spa, "Bit aims to become a 'widespread event' that increases Italy's - and Milan's - role in the tourism industry, while also increasing the attractiveness of our tourist destinations and generating important social and economic benefits of all. Suffice it to say that every euro of value produced by Fiera Milano generates 4 euro of value for the territory's satellite tourism industry. This is something that the entire supply chain understands - as shown, in particular, by the successful partnerships with the City of Milan, which hosts us, and with Region Lombardia."
 "In a world where travel is becoming more and more motivational," concludes Rettani, "tourism is being 'contaminated' with art, culture, food and wine. The new Bit responds effectively to this trend, in line with the mission of Fiera Milano, which is to enhance Italian excellence through its own portfolio of top-rate events."
 "Promoting a city from a tourist point of view, means grasping the potential of an opportunity like this one," says Roberta Guaineri, Councillor for Tourism, Sports and Leisure of the City of Milan. "Bit is one of Milan's annual events that offers the widest range of possibilities, not only in terms of the value it generates for the satellite tourism industry - which, in itself, is significant and indispensable - but also because it allows us to play at home, providing the opportunity to experience the city first-hand and overcome the idea of Milan exclusively as a business destination. We want to represent what this city has to offer in terms of culture, quality of life, opportunities for the young, and innovation. Our aim is to reveal the more exciting side of Milan.  To this end, we have to exploit all possible levers to attract tourists: from traditional urban marketing, to initiatives that stimulate departures and stays. Think, for example, of the various themed weeks that are already organized in the city. This year, we will also add one dedicated to books and another to food, a theme that we hold dear and that we intend to develop further. But there will also be sporting events, which indeed are given significant space in this fair, and which can attract a considerable influx of tourists. We have developed a strategy that explores various avenues. We intend to leave no stone unturned, so that the invitation to visit Milan reaches as many people as possible."
 This year's Bit, which features a new exhibition layout inspired by experiential tourism and a rich schedule of conferences, will also stand out for its numerous authoritative partnerships with Italian and foreign institutions, tourism boards and industry associations, turning the event into a unique platform for knowledge-sharing and business in Italy.
 The event's 4 macro sectors, based on different target audiences and travel motivations, are Leisure, Luxury, MICE (Meetings, Incentives, Conferences and Exhibitions) and Sport (the latter has been extended from one to three days). The section devoted to domestic destinations will be endorsed by Incoming Italy and will offer a representative cross-section of Italy's very diverse territories. Overseas destinations, instead, will be sponsored by ADUTEI, the Association of Official Delegates of Foreign Tourism in Italy.
 Three growing sectors will be allocated a themed area each, conceived in collaboration with experts from each field: A Bit of Taste for wine and food, I Love Wedding for wedding tourism, and Be Tech for the digital world.
 For A Bit of Taste, the top chefs of APCI (the Association of Professional Italian Chefs) will entertain visitors with a number of cooking shows and events, organized in cooperation with AMPI (the Italian Academy of Master Confectioners), FIPE (the Italian Federation of Public Concerns), HostMilano, EWGF - Expo Women Global Forum, and the Ministry of Agriculture, Food and Forestry.
 I Love Wedding, taking place in a large Piazza, is an aggregator of the Italian and foreign offering in terms of dream wedding and honeymoon destinations.
 Be Tech, instead, will reveal the latest innovations developed by leading portals, software houses and specialist service providers, with regard to aspects ranging from B&Bs to travelling with pets.
 Finally, Destination Sport, supported by CONI (the Italian National Olympic Committee), will include a series of enthralling demonstrations. Furthermore, in confirmation of the event's stepped-up integration with the city, on Sunday, the 2nd of April (the day of the fair's opening), the route of the Milan City Marathon will take in Bit 2017. Here, athletes will be able to collect a race packet, inclusive of a ticket to the Bit, at a dedicated refreshment point.
 Bit 2017 will also host an area dedicated to LGBT tourism, endorsed by ILGTA (the International Gay & Lesbian Travel Association). Finally, anyone visiting MiArt on Sunday, the 2nd of April, will be able to use the same ticket to visit Bit 2017 free of charge.
 Bit responds effectively to the over 1,500 invited buyers - whether Italian, who look to Bit as a portal onto the world, or international, who come to Milan to buy both in Italy and abroad. Each and every one of them will be kept engaged for the entire 3-day event, and will be offered the opportunity, on Sunday morning, to take part in Speed Meetings: a business matching opportunity that this season has been extended to influencers.
 The exhibition will be further enhanced by a rich schedule of more than 70 conferences, split into four topic areas: Training (dedicated to Travel Agents and Hoteliers), Hot Topics, Big News and Technology.
 Bit 2017 will take place at Milan's fieramilanocity from Sunday the 2nd to Tuesday the 4th of April.
For event updates: www.bit.fieramilano.it, @bitmilano #Bit2017.