Confusion as FAO 'botches' staff pension elections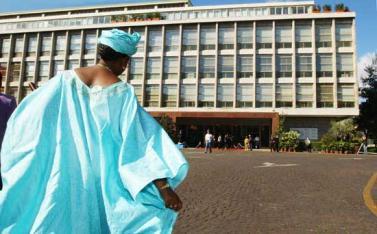 ROME -- As if the UN Pension Fund's own well-documented failings were not enough, the FAO has botched its own Staff Pension Committee (SPC) election. Speculation first emerged last Tuesday that votes for seats on that body, which closed March 6, were to be extended by a week. On Wednesday the results were completely voided, with no date set for a re-run, FAO sources said.
  "The SPC is so important for Pension Fund governance," one knowledgeable FAO retiree told the Italian Insider. "From that, delegates go to the annual Pension Board, where the Fund's management is grilled. It has other duties, but with UNJSPF's situation now, that is a big one. So every pension contributor gets to vote on it."
  Hundreds if not thousands if contributors were omitted from an e-mailing providing each a unique link allowing them to vote securely," the sources said.
  "How this could happen is unfathomable," said one FAO staffer, "the Pensions Unit here should know exactly who pays pension contributions. People can't just drop off a list like that after years of paying into the Fund. When the time comes to draw your pension, we've been disappeared?"
 A copy of the voiding notice to FAO staff seen by the Insider referred to "a technical error in the transmission of the eligible voters' list from WFP to FAO." With a shared history, the two UN bodies have a joint SPC.
 "This is bad," said the staffer, "FAO can't get it right again. People must wonder if their pensions are safe, first with the Fund itself, now with the FAO like this."
The issue harks back to a botched transition from Belgian Medical insurer Van Breda to Germany's Allianz, reportedly managed by the same unit, where service levels dropped precipitously overnight and medical claims want unpaid for both FAO and WFP people. "It was problematic in Rome," one aggrieved FAO Africa veteran said, "but a nightmare in decentralized field stations. Allianz was and is a disaster."
 The snafu came to light after national staff in field offices realized that they had not got the voting e-mail when international colleagues also paying into the Fund had done. So they protested. FAO election organizers only then realized the mistake and had been "asleep at the wheel," FAO sources said. Curiously instead of extending the vote and sending the relevant e-mail to the unfortunates who missed out, the vote was voided.
  "People do wonder," said one disenfranchised voter. "First a big bunch of people are excluded. Then FAO uses their own error to justify voiding the entire vote."
  One Far East country director identified as 'Dom' vented publicly on social media, noting that WFP pension contributors covered by the FAO-dominated SPC outnumber FAO colleagues two to one — "maybe too many WFP people voted this time?"
 Those excluded are thought to be mainly national staff in Muslim countries. One Arab officer identified only as George said: "internationals in Rome are included, but Muslim national staff working in the difficult places are out. Technical glitch? Whole process to be repeated. This is the UN."