"Human error" to blame as motorway A14 reopens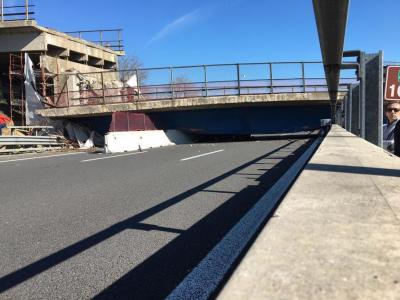 Technicians worked through the night as A14 reopens
 Rome—On Friday morning Italian authorities reported that they had reopened the section of the A14 motorway affected by Thursday's bridge collapse. However, the leader of the inquest into a potential culpable homicide case stated that an incident of this nature undoubtedly involves "human error".
 The fallen structure killed a couple travelling along the motorway between Loreto and Ancora Sud. The dead have now been revealed as Emidio Diomede, 60, originally from Controguerra, and his wife Antonella Viviani, 54, from Spinetoli. The couple were married for 36 years and soon to be grandparents.
 Their son, Daniele, described the event as "a tragedy without an explanation".
 "And now there is only pain, an almost intolerable pain".
 The disaster also left 3 of the on-site workers injured, although they are not reported to be in a serious condition. The chief of the Marche police, Alessio Cesareo, affirmed that the workers were performing maintenance work at the base of the overpass and were most likely injured in their attempts to avoid the collapse.
 Motorway technicians worked through the night to restore the structure and ensure that it no longer jeopardises the safety of road users. Traffic is now flowing normally in both directions.
 The nature of the incident naturally invoked outrage from the Italian people and the media.
 In response to the event, Alberto Mingardi from La Stampa wrote, "we are a country going to pieces, literally". Mingardi also made reference to the October bridge collapse in Lecco that left one man dead and implored the government to take more measures to ensure the safety of Italian road users.
 There have even been calls for the Transport Minister, Graziano Delirio, to resign. Delirio has sent inspectors to the scene and an inquest has begun into what caused the incident to take place.
 The police's initial findings suggest that the vehicle collided with a supportive beam, which then buckled and lead to the bridge's collapse.
 Irena Billota, leader of the prosecution, said, "by definition an unintentional misdemeanour consists of human error, but the investigation has only just begun".