In Fucina keeps pizza purists happy whilst being a novelty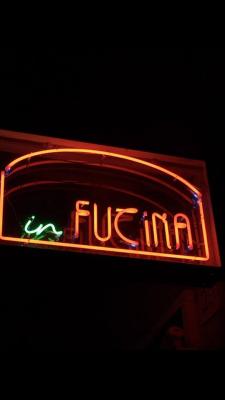 The unassuming exterior hides the treasure inside
 ROME-- I have always admired craftsmanship. Whether it be the finish on a beautiful piece of furniture, an antique vase or a stirring piece of music, I can't help but adore the fusion of precision and passion.
 Those who visit Rome will understand great food can sometimes be hard to come by. That's not to say that it doesn't exist but in a city centre plagued by restaurants selling frozen cannelloni to gullible tourists it can be easy to lose hope. Of course, I'm not going to pretend that tourists being ripped off is a problem unique to Rome, but in a country so rich in wonderful produce, peeling the plastic wrap off a ready meal and serving it to a person wearing sandals and socks is still a real shame.  
 That's why finding a restaurant that takes its craft so seriously is such a relief. In Fucina is a beautiful little restaurant hidden away in South-West Rome. It's certainly not easy to get to and when you do arrive one would be forgiven for questioning whether this innocuous suburban street could really be the home of one of Rome's most exciting restaurants.
 During my visit, I allowed the owner, Edoardo, a warm and open Roman, to take full control of my experience. As we found out later, he claims to have created between 800 and 900 different meals; all of which had featured on the menu at one point or another. This may sound like a vast overstatement but the way this man and his team see food and understand flavours is truly inspiring. However, do not be fooled. This is inovation with one foot grounded firmly in tradition. Wood fire ovens, organic flower and hand rolled dough all present and accounted for. The three pizzas that we tried all brought a unique statement and managed to showcase Edoardo's vision effectively.
 I should add at this point that Edoardo was keen to point out that what he is producing may look like pizza, smell like pizza and be prepared in the same way as pizza, but a pizzeria it is not. Instead he insists on viewing his creations as meals on top of pizza. Perhaps this might be slightly self-aggrandising and or even delusional but as the process of creating one of Edoardo's dishes was explained to me I began to give him the benefit of the doubt.  
 The first dish that we were presented immediately aimed to shatter norms. A delicious combinations of salmon eggs and DOP mozzarella was a delight and showed that cheese and fish can be combined if done so in a sympathetic way. The creamy mozzarella complimented the salty fish eggs and showcased Edoardo and his team's knack for combining flavour.
 Of course, this was not the sort of pizza and beer situation enjoyed by students worldwide. The prices alone dictated that what was in front of us would be best enjoyed with an expertly selected red; and you wouldn't be wrong. We asked Edoardo to bring us some wine but he insisted on us drinking beer. The reasons for this soon became clear as he explained his dedication to his project. Edoardo did not feel that he could adequately select wines to compliment his dishes but knew that the beer he provided, from the Atlas Coelestis brewery in Rome could.
 The meal progressed with a second creation being brought out; this time topped with ricotta, deliciously sweet and garlicy broccoli, topped by delicious cured meat. It was delicious if a little unremarkable.
 There can be no doubt that the ingredients employed were of the highest quality and that the passion behind the restaurant was tangible; however a great meal is often greater than the sum of its parts. Our final dish really confirmed the talent of Edoardo and the validity of his project. It was a take on a classic margherita pizza with a simple and yet ingenious twist; the tomato puree had been sautéed in rum accentuating the sweetness of the tomato and adding a real depth of flavour.
 The fact is, for better or worse, Italian food is steeped in tradition. Whether it be not ordering a cappuccino after midday, or not combining cheese and fish, there are certain frameworks adhered to often for little more than traditions sake. This is what Edoardo aims to challenge with his provocative take on Italian classics. Of course, he does not wish to spit in the face of tradition but as he tells us after the meal, "Italian food hasn't changed or moved on in 20 years." This is a man who feels a certain sense of conflict and expresses it in his food. On the one hand, each and every one of the ingredients in his restaurant is carefully selected from producers that he chooses, but on the other hand, he wanted to break free from the frameworks that have been imposed upon him.
 As we spoke more and more with Edoardo it became clear that In Fucina is a restaurant that wants to challenge norms whilst remaining accessible and familiar. The average pizza costs around 25 euros but craftsmanship charges a premium. 
Via Giuseppe Lunati, 27 - Roma
Tel. 06 55 93 368
Open Tue- Sun 19.45-23.00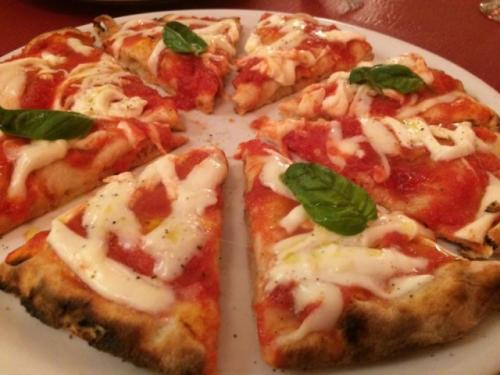 The special rum-infused margherita