Pope says 'depend on Bible like you do cellphones'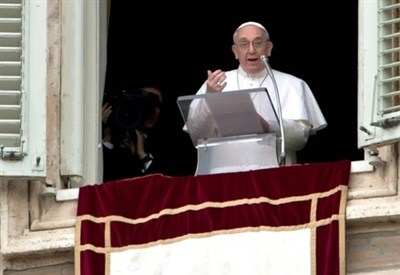 VATICAN CITY – Pope Francis marked the first Sunday of Lent by telling the faithful they should carry bibles with them the same way they do their cell phones.
 "During the 40 days of Lent, we as Christians are invited to follow the path of Jesus and face up to the daily spiritual fight against Evil with the strength of the Word of God," the pontiff said, speaking to tens of thousands of pilgrims gathered under rain showers in St Peter's Square for his weekly Angelus address.
 "For this one has to become confident with the Bible – read it often, meditate on it, assimilate it. The Bible contains the Word of God, which is always relevant and effective."
 "Somebody said – What would happen if we treated the Bible the way we treat our cellphones? If we carried it with us always, if we turned back if we forgot it, if we opened it several times a day, if we read the messages of God contained in the Bible as we read the messages of the telefonino … " the pope said.
 Francis added that "clearly the comparison is paradoxical, but it makes one reflect. In effect, if we we had the Word of God always in our heart, no temptation could distance us from God and no obstacle could deviate us from the path of good."
"We would know how to defeat the daily suggestions of evil that are in us and outside us, we would find ourselves more capable to live a life that was successful according to the Spirit, welcoming and loving our brothers, especially those who are weaker and more needy, and also our enemies."