Rome taxis strike against 'Pro Uber' measures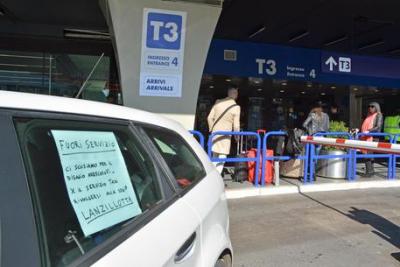 A taxi at Fiumicino airport 'out of service' in protest
 ROME – Taxi services have been suspended in the Italian capital Thursday in awaiting the vote of the Senate on the maxi-amendment to the so-called 'Milleproroghe' or 'One Thousand Extensions' decree which paves the way for multinational companies such as Uber to grow, whilst taxi drivers in Milan and Turin continue to protest.
 The unrest in the capital has also been extended to Fiumicino and Ciampino airports, practically emptied of white cars. Around 1,000 drivers have gathered spontaneously near Palazzo Madama.
 In Turin, taxi drivers are also protesting outside the Town Hall, just as trade union organisations of Milanese taxi drivers have asked for an urgent meeting with Prefect Luciana Lamorgese.
 According to taxi drivers, the amendment "rewinds the clock eight years," and, if approved, "gives the green light to a whole series of illegal actions in the sector of passenger transport."
 Local taxi organisations in the capital say that the measure "prepares the way for the actions of multinationals who have long been operating in our territories in defiance of the regulations in force."
 sw