Fruitful trip to San Marino for British Ambassador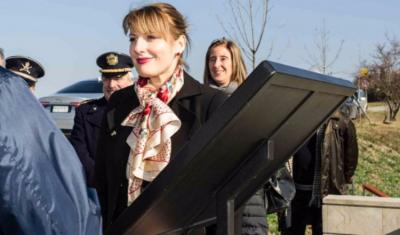 Ambassador Jill Morris, CMG, laid a wreath in memory of the fallen Gurkha soldiers. Photo credit: libertas.sm
 SAN MARINO – British Ambassador to Italy, Jill Morris, CMG, paid homage to the fallen Gurkha cadets of Sept. 18, 1944, in front of the monument in Monte Pulito, Faetano.
 The senior diplomat laid a wreath Wednesday in remembrance of the fallen, dedicating a speech to those who lost their lives, saying, "their sacrifice will never be forgotten."
 Ambassador Morris and Head of the Township Council Fanny Gasperoni immediately agreed to develop future projects.
 The British Ambassador also visited the ASA group during her trip to San Marino.
 Only a few days ago in Milan, Ms. Morris had presented the head of the company, Emilio Amati, a prestigious award for excellent developments in the UK with the acquisition of Central Tin Containers Ltd based in Liverpool.
 The diplomat was shown the structure of the company, the first group in Italy and among the first in Europe in the metal packaging market, and was guided through the business model and production workings.
 President Amati said of the visit, "The friendly atmosphere in which the meeting took place is a testament to the active atmosphere of cooperation. The Ambassador presented us with the opportunities and tools that the British Government have made available to the group which guide and support us in penetrating the UK market."
 sw
President Amati of the ASA group with Ambassador Jill Morris, CMG. Photo credit: libertas.sm