Spirit of Scotland Whisky Festival comes to Rome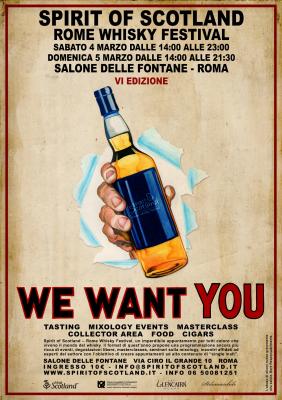 ROME-- On March 4 and 5 the sixth annual Spirit of Scotland Rome Whisky Festival will take place. This is the whisky industry's biggest and most important meeting in Italy.
 For fans of whisky, this is an unmissable opportunity to enjoy events, tastings, whiskey masterclasses, seminars on mixology and meetings with other fans and experts.
  The events art director, Andrea Fofi, with the help of experts Pino Perrone and the Scot Rachel Rennie, are expecting an increase on the 4,000 people that turned out for last year's conference. The festival prides itself on its ability to bring together experts and enthusiasts and 200 brands will be present, ten masterclasses on various topics, five mixology seminars and ten international guests working in the sector will be present.
 This sixth edition of the conference will see brands like Jura, Dalmore and Wemyss Malt undertaking masterclass presentations as well as a plethora of world famous bartenders such as Erick Lorincz, head bartender at the American bar at the Savoy in London and Antonio Parlapiano of the Rome's own Jerry Thomas Speakeasy. In addition to this the Balan and Partners Mixology Contest will be held on the 4 March. It will see eight bartenders go head to head in an elimination contest for a prize of one thousand euros.
 The bar will be presided over by the teams from such bars as the Jerry Thomas Project, Argot and Freni and Frizioni. In the centre of the space there shall be a display of vintage and rare bottles provided by a collector who once worked in London for Whiskey auction.
 Gourmet food will also be served such as oysters and Scottish salmon as well as a novelty Scottish pub being constructed. This Festival was born in 2012 thanks to the passion for events of one of its two founders, Andrea Fofi, and for whiskey by its other, Rachel Rennie. Until that moment, there wasn't a single festival in Rome that celebrated the art of distillation.
 The event will take place in Rome on 4 and 5 March 2017 in the Salone delle Fontane all'Eur (Via Ciro il Grande, 10)
Visit: http://www.spiritofscotland.it/ for the full programme