RAVENNA ANCIENT MOSAICS COLLECTION GOES TO FINLAND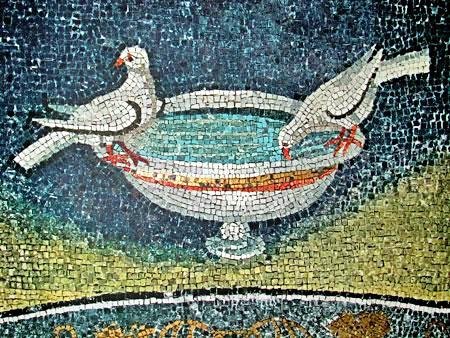 ROME — A collection of copies of ancient mosaics of Ravenna is going on display in three major cities in Finland. Owned by the Municipality of Ravenna, the collection was produced in the early 1950s at the initiative of Prof. Giuseppe Bovini, the patronage of the Rotary Club and the local Tourism and Accommodation Company. It was set up to promote knowledge of Ravenna and its priceless mosaics throughout the world.
More than 60 copies of the most evocative mosaics, still kept in perfect condition in the historic buildings, are recognised by Unesco as pieces of world heritage. They were created by the 'Gruppo Mosaicisti' of the Ravenna Fine Arts Academy, the faithful custodians of this ancient craft. The entire collection was produced following a complex and rigorous procedure in order to ensure absolute faithfulness to the originals.
After exhibition in the major cities of Europe, the collection of copies of ancient mosaics of Ravenna is now in Finland and will be on display in three of the major cities of the country until autumn.
The first stop of the exhibition is Joensuu, in the renovated Carelicum exhibition area. In this cultural centre for the entire land, the mosaics are on display from 29 January to 20 March 2011.
From 29 June to 28 July the exhibition will be at Helsinki in the crypt of the Lutheran Cathedral of Tuomiokirkko, one of the symbols of the Finnish capital that is visited by thousands of tourists every year.
Finally, from 5 August to 15 October the mosaics will be on display in the Concert Hall of Turku, the city that holds the title of European Capital of Culture for 2011. The mosaics will form part of the cultural programme for the year and in doing so, they will represent an important part of the mosaic of international relations. The Municipal Administration of Ravenna is creating this mosaic to support the complex process of candidature for European Capital of Culture for the year 2019.
In collaboration with:
The Province of Ravenna, the Italian Embassy in Helsinki, the Italian Cultural Institute in Helsinki, the city of Joensuu, Carelicum Centre, the Lutheran Cathedral of Helsinki, Turku Concert Hall, Turku 2011.
INFO
Tourism and Cultural Activities Service
Municipality of Ravenna
via Salara 8/12
48121 Ravenna
tel. +39 0544 482680 - fax +39 0544 35094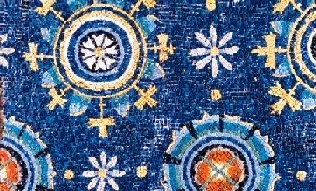 Detail of vault at Galla Placidia Mausoleum