Italy 'keen to readmit Putin' to G7 summit, Merkel disagrees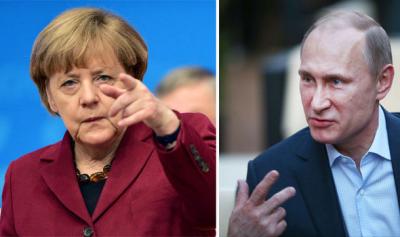 Angela Merkel and Vladimir Putin
 ROME -- Angela Merkel insists Vladimir Putin should not be invited to the G7 summit, yet Italy - suffering economically - would like to readmit the Russian President, Roman daily Il Messaggero reports Wednesday.
 The presence of Putin at the G20 meeting in July has been accepted, yet the same does not apply to the G7 May meeting in Taormina, Sicily, when the seven world leaders will meet without the controversial Russian figure.
 In essence, the underlying confrontation is between Washington and Berlin. Italy, on the other hand, is not so keen to 'kick out' Putin.
 With the Italian economy facing numerous issues, having Russia as a friend would certainly help financially. They would also provide a valuable ally in the fight against terrorism and the stabilisation of the Middle East.
 However, Germany continues to veto Putin, staying true to sanctions placed by Europe at the request of Obama and Cameron. But, the tenants of both the White House and Downing Street have since changed.
 One of Trump's first acts after his victory was to telephone Putin, deciding to meet with the Russian President face to face before the Hamburg summit.
 Nevertheless, to invite Putin to Taormina would be, for Merkel, and end to the Minsk accords and indeed the sanctions previously imposed.
 "The sanctions are not automatic," Italian Foreign Minister Angelino Alfano assured Tuesday, "But at the same time it is evident that for us a slackening and relaxation between the US and Russia, proposing an elimination of sanctions, would not be acceptable."