'Abusive' posters against Pope plastered around Rome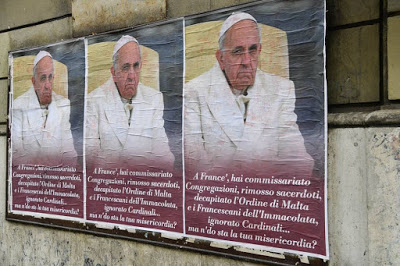 The posters were captioned with a scathing comment written in Roman dialect
 ROME -- Dozens of 'abusive' anonymous posters appeared at around 40 locations in the Italian capital criticising Pope Francis, captioned with, "Ah Franky, you've put Congregations under supervision, removed priests, decapitated the Order of Malta and the Franciscans of the Immaculate and ignored Cardinals…But where in all this is your compassion?"
 The posters, put up over the weekend, featured a photograph of the pontiff with a stern facial expression and the accompanying words, written in Roman dialect. The city of Rome has said no permission had been granted for the 'abusive' and unauthorised posters to be displayed. There has been so far no information as to who made them.
 The posters which ask the head of the Holy See "Where is your mercy?" are thought to be at the hands of conservative, orthodox Catholics who oppose Francis' reforms.
 Police immediately launched an investigation to uncover who was responsible, aided by CCTV.
 A backlash erupted once word spread. Cardinal Marc Oullet claimed the posters were the "work of the devil," designed to spark further divisions within the Church.
 Father Antonio Spadaro, editor of the Jesuit journal Civilta Cattolica, wrote on Facebook, "It is a sign that he is doing good and it is irritating some people. (…) Behind this are corrupt people and strong powers that create strategies to remove the Pope from the heart of the people, which is his great strength. And the result is the opposite effect."
 Pope Francis himself, however, took the news with "serenity and detachment," choosing not to react nor respond to his critics.
 sw