Republicans send 'clear' signal FAO in Trump cross-hairs
Republican Congressman Chris Smith
 WASHINGTON – Republican House Foreign Affairs subcommittee Chairman Chris Smith lambasted the FAO Thursday for seeking "to silence truthtellers" inside the UN agency and slammed Director General José Graziano da Silva for hiring former Peruvian first lady Nadine Heredia.
 "Sadly we have indications that the FAO has sought to silence truthtellers in that organisation," Smith told the subcommittee https://www.youtube.com/watch?v=FT20f1VDRSA. , "while offering a plush diplomatic post to shield a former first lady under investigation in her own country for receiving bribes in a corruption scandal that touched certain Latin American countries."
 A number of staffers at FAO including senior staff association officials were pushed out of the agency by Brazilian Graziano as he sought to pack the agency with cronies from latin America and hispanic countries, FAO watchers say.
 The remarks were the first public acknowledgment that the Trump administration has the FAO in its cross-hairs.
 The Republican Congressman's strong remarks "sends a clear signal - that the DG's self-serving antics are in the Trump administration's cross-hairs and will no longer be tolerated," a well-informed source in Washington told the Italian Insider.
 Graziano's appointment in December of Nadine to head the FAO liason office in Geneva despite her being investigated for allegedly laundering dlrs 150 million of funds from Graziano's Brazilian homeland and Venezuela for her husband's campaign funds set off a furore and it remains unclear whether she will be allowed to leave Peru to take up the appointment, or whether the FAO still wishes to employ her.he United States will not pay their dlrs 64 million assessed contribution to the Food and Agriculture Organisation (FAO) until "real reforms," happen at the troubled U.N. agency, the source close to the Trump administration said Thursday.
 The Trump administration is "furious that the Director General (José Graziano da Silva) has been running FAO as if it was his own country and (that he) is playing 'dictator games with the organization,'" the source told Italian Insider, speaking on condition of anonymity.
 "The newly created Climate Change department at the FAO is seen as 'mission creep' and the hiring of (former Peru first lady) Nadine Heredia was the last straw,'  the source said.
 "The U.S. will not pay their assessments (they are currently in arrears) of dlrs 64,315,720 and that they WILL NOT pay until real reforms happen at FAO," he added. 
 jp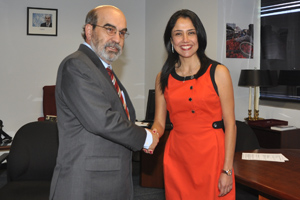 FAO DG Graziano and Peru former First Lady Nadine Heredia