Melampo and Morfosis hit the AltaRoma runway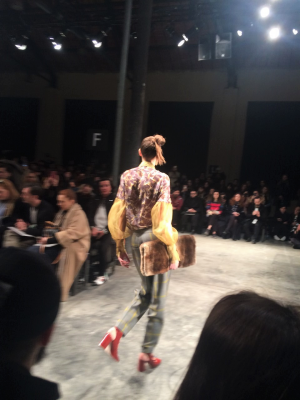 Model wears items from Alessandra Cappiello's Morfosis F/W 17/18 collection
  ROME -- The penultimate day of the AltaRoma shows opened with the contemporary Melampo Milano F/W collection, the haute couture brainchild of Lulu and Anna Poletti who grew up in their family's factory in the Italian fashion capital.
 "For us, the factory was like a playground," the sisters told Vogue Italia, explaining how they would play hide-and-seek behind sewing machines and collect various accessories and buttons from the factory floor, pretending they were pieces of treasure.
 With a childhood based in such a creative setting, the siblings naturally remained faithful to their roots and family heritage when building a brand of their own. Despite being conscious to retain a sense of history and nostalgia, the collection is also enhanced by surrealist and unique twists (inspired by the Spanish figurative artist Dino Valls).
 Working around the central item of the shirt (an iconic element of the Melampo range) and fluid, draping trousers, the designers took the AltaRoma audience on a psychedelic journey of reinvention and contrasts. Inspiration from the Edwardian and Victorian eras were blended with Gothic and mythological aspects to form a transcendental display.
 The hybrid selection of floral jackets, ruffled floor-length gowns, puffed sleeves, draping dresses and embellished coats made use of silk muslin, delicate Chantilly lace and woollen tartan to form a rather romantic runway production.
 Of course, the classic shirt which put the brand on the map and contributed to the designers' place in the final of 'Who Is On Next?' 2016 was the dominant item throughout the show, whilst, as a finishing touch and a nod to the siblings' family roots, the models donned detailed berets to complete each ensemble.
 Next to grace the catwalk was the F/W 17/18 Morfosis collection by Roman designer Alessandra Cappiello. The Morfosis lady is one who is 'imperfect, incomplete yet has the imperative to evolve,' determined to defy societal restrictions to find her own multi-dimensional aesthetic.
 A mixing pot of romanticised femininity, rock-inspired elements and cosmopolitan elegance, the clothes flowed through the colour spectrum from blue to green, pink shades to burgundy and finally to black, the characteristic colour of the Morfosis design, symbolising a woman's ongoing search for balance and identity.
 Saturday's events continue with the prestigious 'Portfolio Review,' allowing a select group of emerging talent to present their creations to Sara Maino, Senior Editor of Vogue Italia, and Simonetta Gianfelici, talent scout for the 'Who Is On Next' competition.
 Carrying on into the evening, AltaRoma boasts presentations from Mario Orfei and Sabrina Persechino.
 sw
Model wears dress from Lulu and Anna Poletti's Melampo F/W 17/18 range. Photo: S. Dragone - G. Palma / Luca Sorrentino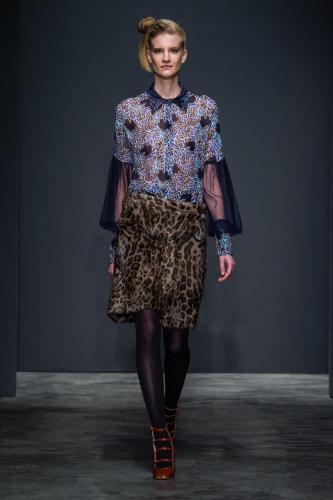 Model struts in pieces from the Morfosis F/W 17/18 collection. Photo: S. Dragone - G. Palma / Luca Sorrentino