International media, the 'engine' of the 'Italian myth'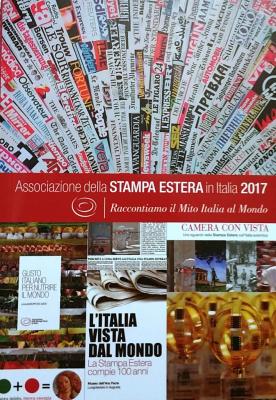 ASEI 2017 Yearbook cover. Photo Credit: Gianfranco Nitti
 ROME -- Despite the economic and social crisis that has been troubling Italy since 2008, foreign markets always regard Made in Italy products with respect and admiration, many of which have not lost their attractiveness but require better communication methods to promote them in a more suitable and tangible way to today's world.
 A debate on this issue recently took place in Rome at the headquarters of ASEI, Italy's Foreign Press Association, during the presentation of the 2017 edition of its Yearbook which contains a brief history, now centenarian, of the association, in addition to extracts by the hundreds of correspondents spread across its offices in Rome and Milan.
 The event, which was prompted by the results of a survey for some of the accredited correspondents, highlighted that the international media have an interest in news related to the Made in Italy label and its various facets, whether tourism, fashion, design, gastronomy, culture and creativity in general.
 However, unfortunately the success stories often do not have the strength to cross national borders due to difficulties of disseminating information. Yet, as pointed out by the president Tobias Piller, German, the 5250 foreign press correspondents  that, from 1912 onwards,  have narrated Italy to the world, "helped to create the myth of Italy".
 The event was attended by Luca Cordero di Montezemolo, President of Alitalia, former President of Ferrari, Diego Della Valle, Tod's Group President, Matteo Lunelli, Cantine Ferrari President and Vice President of Altagamma, Andrea Cocchi, CEO of Carpigiani Group, Giuliana Paoletti, President , Communication agency Image Building., The undersecretary at MISE, Ministry of Economic Development, responsible for foreign trade, Ivan Scalfarotto represented the Government.
 The participating entrepreneurs emphasized the important role that foreign correspondents have exercised and exercise for the benefit of the products which have created the 'Italian Myth,' contributing to its knowledge and diffusion in the world.
 In particular, Della Valle has called journalists of the ASEI catalysts in this role, proposing periodic intervention at the ASEI by representatives of industry and domestic production in order to present their activities and projects.
 In turn, Montezemolo reiterated the need to continue to ensure an appropriate site for the ASEI, like the present one, to serve as a perfect base for the work of some of the 450 accredited journalists from 54 countries.
 Scalfarotto, after having illustrated the Government's commitment to the promotion of Made in Italy, has given assurances to that effect to the Foreign Press Association on behalf of the Italian government, even after the ventilated transfer from its current location.
 nkd-gn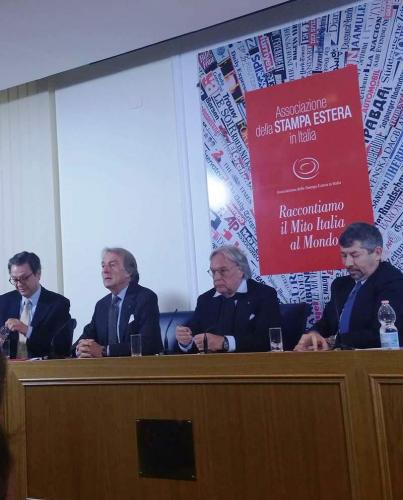 From left: Piller, Montezemolo, Della Valle, Scalfarotto. Photo Credit: Gianfranco Nitti