Journalists revolt at L'Unita against proposed lay offs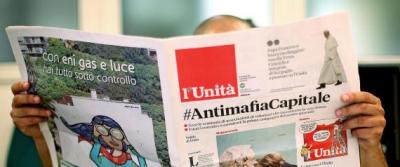 Italian newspaper, L'Unità.
 ROME -- Mass sackings announced at the former communist newspaper L'Unità, now the official organ of former Prime Minister Matteo Renzi's Democratic party, have led journalists at the paper to go on strike, Italian daily Il Fatto Quotidiano reports Thursday.
 The editor of the left-wing newspaper, which closed back in 2014 due to large debts and then restarted in June 2015 with Renzi's support, has this week promised cuts (without social safety nets and welfare benefits to soften the blow).
 Guido Stefanelli, CEO of the Pessina Construzioni group, announced Wednesday morning in a meeting with a number of representatives that the company will dismiss a so-far unspecified number of journalists.
 Back in November, the Pessina group, owners of 80 percent of the business, facing a huge decline in copies, asked for 12-14 journalists to be transferred from Article 1 to Article 2 -- from open-ended contracts to regular contributors.  
 The recent decision to 'lay off' numerous employees has not settled well amongst journalists and editorial staff.
 One representative from the Cdr, the Editorial Committee, Umberto De Giovannangeli, said of the recent news, "Not one master of the ironworks would act in the same way in which those from Pessina are acting. There is so much superficiality, but also ignorance of the law in their work. We have waited for 18 months for an industrial plan but we have never seen one. We are facing an act of violence, but we are defending our work, including in Court."
 sw