WFP assists flood-devastated Central America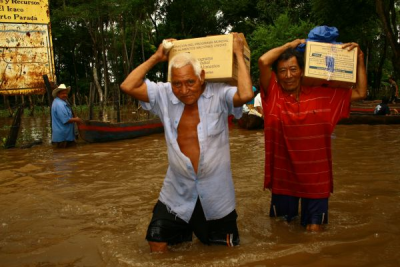 El Salvador residents carry much needed WFP food packages across the 'road'. Photo WFP//Tania Moreno
By ALYX BARKER
ROME --The World Food Programme has announced its response to urgent calls for assistance in flood-stricken Central America, where severe floods and mudslides have caused over 100 deaths across the region in the past few weeks.
 Irma Palma, WFP Officer in Charge in Guatemala, said: "Vulnerable families have lost their crops, which they depend on to survive, and at the same time food prices are increasing nationwide due to the crop losses. WFP is assisting the most affected families with food rations. But their number is increasing."
 WFP Regional Director, Gemmo Lodesanialso also warned of the effect of rising food prices: "Recurrent natural disasters are exacerbating the food security situation of both rural and urban populations in Guatemala, El Salvador, Honduras and Nicaragua, which are also suffering the impact of high food prices."
 WFP provided food for tens of thousands of families at the start of the emergency, and Country Director, Miguel Barreto in Honduras, says"Now we are assessing the extent of damages to start the process of helping affected communities to recover."
 The U.N. agency says it will provide emergency food assistance to up to 300,000 people in Guatemala, Honduras, El Salvador and Nicaragua, carry out emergency food assessments with governments and partners to find out how many people are in need and for how long they will need food assistance and help communities build resilience so that victims of the floods are better prepared to cope with periodic food insecurity.
 Helmut Raunch,WFP Country Director in Nicaragua, said: "It is important that affected people keep receiving the food they urgently need and to that end we are working closely with national authorities"
 Millions of dollars are needed to help those affected by the floods. WFP is requesting over 13 million US Dollars to provide food just in El Salvador and Nicaragua
Severe floods claimed 15 lives in Honduras. Photo WFP/ Hetze Tosta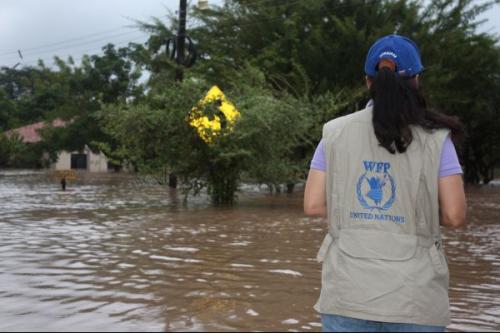 WFP reaches Honduras. Photo WFP/ Hetze Tosta