Italian embassy reopens in Libya 'to help with stabilization'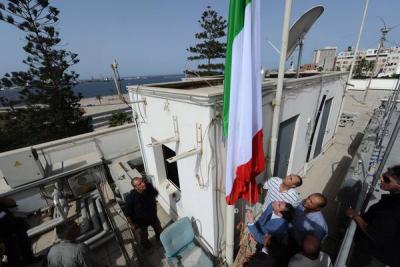 The Italian embassy in Tripoli, Libya
 ROME -- The Italian embassy reopened in Libya in an attempt by Italian PM Gentiloni's government to stabilize the country and collaborate against human trafficking, the Prime Minister said Tuesday.
 "The Italian embassy in Tripoli reopens. A commitment by our government to stabilize Libya and collaborate against people traffickers," the Italian Prime Minister Paolo Gentiloni tweeted Tuesday.
  The chosen ambassador, Giuseppe Perrone, presented his credentials to the Libyan government Tuesday. The Italian embassy will be the first to operate in a continuous manner in the Libyan capital. The embassy had previously closed in 2015 along with all other Western embassies due to violence.
  "The reopening of the embassy is a hugely important sign of friendship to all the Libyan people and a signal of strong trust in the stabilizing process of this country," said the foreign affairs minister Angelino Alfano.
 He also underlined that "we are working towards concrete results in the ambit of confronting illegal immigration, human trafficking and controlling the points of migratory transit on the southern border between Libya and Niger."
 The new ambassador Perrone "is one of the best connoisseurs of the region and of the political currents of the Mediterranean -- that is why we wanted to choose him," Alfano continued.
 "In a way that is compatible with security conditions, we also aim to better commercial trade between our two countries, to reinforce the link between our businessmen, and to promote investment opportunities -- also in the crucial renovation of mining infrastructures and in the bilateral cooperation in the field of renewable energy sources and non-conventional hydocarbons," concluded the foreign affairs minister.
 nkd