UN women and peace Resolution disappoints 11 years on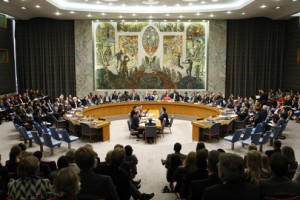 The UNSC recognised the need to involve women at every level of peacekeeping, yet women remain sorely under-represented in many countries
By DALEELA FARINA and ALYX BARKER
ROME -- The UN Security Council Resolution on women and peace and security has now been in place for 11 years, but international women's organisations say governments are still "dragging their feet" in implementing it.
 The UN Security Council adopted resolution 1325 (UNSCR 1325) on women and peace and security on Oct. 31, 2000, making yesterday its 11th birthday. The resolution reaffirmed the "important role of women in the prevention and resolution of conflicts, peace negotiations, peace-building, peacekeeping, humanitarian response and in post-conflict reconstruction."
 It also stressed the importance of their "equal participation and full involvement in all efforts for the maintenance and promotion of peace and security."
 The Resolution urged an increase in the participation of women in all United Nations peace and security efforts. and called on all parties to conflict to take special measures to protect women and girls from gender-based violence, particularly rape and other forms of sexual abuse, in situations of armed conflict.
 11 years on there are now 32 countries with national action plans to ensure the implementation of the Resolution. International Coordinator for the Global Network of Women Peacebuilders, Mavic Cabrera-Balleza, said: "We commend the governments that have developed national action plans because these are the systematic translation of Resolution 1325 into executable, measurable and accountable actions at the country level. The adoption and implementation of the plans are an expression of commitment to turn the words into real actions on the ground."
 There is also evidence of the Resolution in action in conflict areas such as Afghanistan, where ISAF Gender Advisors have ensured ISAF forces know how integral women are to the country's society and success and Afghan women have met officers at NATO Headquarters to encourage the hiring of females in ISAF troop contributing nations.
 As UN Women Executive Director Michelle Bachelet said at the Security Council on Oct. 28, however,"much more can and must be done to fully engage women in conflict resolution and mediation. As the Security Council has emphasized, women's full participation in peacemaking is fundamental to building peace and security."
Cabrera-Balleza said: "Let us not forget that 32 national action plansout of 193 UN Member States represent only 16.5 % government response. Moreover, there is still no regular monitoring and reporting mechanism of government implementation of Resolution 1325." The Resolution also urged greater participation of women in UN peacekeeping and security action, yet still the number of women employed in NATO states' security forces varies between just 3 and 18 per cent.
 She commended the input of women's groups and other civil society organisations, saying that "it is them who have kept the Resolution alive in the last 11 years." She said that "while governments are still dragging their feet" these organisations have done a lot more to support women in conflict and monitor the implementation of the Resolution.
 Bachelet concluded her speech with: "As we go forward, we need determined leadership — by all of us:  the Security Council, Member States, Civil Society, and the United Nations, to fully engage women in mediation and conflict prevention."