Nadine 'assists' interrogation before starting FAO sinecure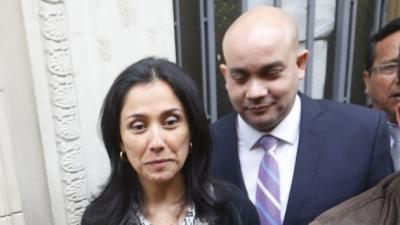 Nadine Heredia with lawyer Eduardo Roy Gates
 LIMA -- Former Peru first lady Nadine Heredia, appointed as head of the FAO's Geneva liaison office, will be quizzed Wednesday about her allegedly taking on government roles without authority during her husband's presidency, by the Peruvian government's Judicial Commission, Peruvian newspaper Perú21 reports.
 Ms Heredia, married to former president of Peru Ollanta Humala, was appointed the role as head of the Food and Agriculture Organization's liaison office despite being investigated for abuse of office in her native Peru -- including alleged money laundering of dlrs 150 million from Brazil and Venezuela -- throughout her husband's presidency from 2011 to 2016.
 Nadine is meant to be interrogated by the Peruvian government's Judicial Commission Wednesday at 10 a.m. Peruvian time (4 p.m. Italian time), and the head of the commission Héctor Becerril said that Nadine's lawyer has confirmed her attendance, Peruvian newspaper El Comercio reports.
 The date of the interrogation was postponed by a week, as it was initially meant to be held Dec. 7. The investigations within this commission have lasted almost four months now.
 Becerril said that amongst the matters to be discussed with Ms Heredia is her trip to Brazil in 2012, which she undertook with the former minister for development and inclusion Carolina Trivelli. During this tour, the former first lady allegedly took on the role of representing the Peruvian government despite not having the authority to do so.
 Nadine will also be quizzed on the ex-defence minister Pedro Cateriano's statement recorded on tape in which he says that the first lady gave him permission to carry out purchases in this sector -- however, the former ministerial chef de cabinet claims the audio was edited, judicial sources said.
 "This will be a rather lengthy session. If Nadine Heredia wants to respond to all the questions asked, obviously this will last four or five hours. There is also the possibility that she will not want to reply, like last time. It now depends on her," concluded Becerril.
 When Nadine's lawyer Eduardo Roy Gates was asked whether his client would return to Switzerland -- where the UN agency's liaison office base is located -- to take on her role in the FAO, Roy Gates said that she planned first to resolve her legal situation before the Peruvian justice system.
 "We have asked for a change of terms to do with her restricted appearance before the judge in charge of the case, and we hope that he will allow Nadine Heredia to sign every 30 days in the Peruvian consulate in Switzerland, because it is madness to keep her permanently in the country without allowing her to enjoy her right to work," her lawyer concluded.
 A Peruvian MP has accused FAO DIrector General José Graziano da Silva of being part of an "international mafia" obstructing investigation into money laundering activities emanating from the UN agency honcho's native Brazil. 
 jp-nkd