Euro plunged to 20-month low following 'No' win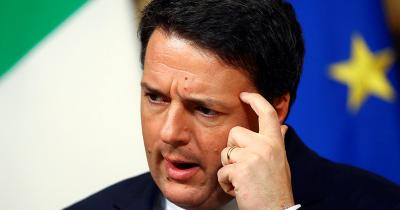 Matteo Renzi announced his resignation following crushing defeat
ROME – The euro plunged to a 20-month low, slipping 1.3 percent to 1.0524 dollars as of 12:25am, following the result of the Italian referendum which left Prime Minister Matteo Renzi defeated, announcing his resignation early Monday morning.
 Analysts point out that market reactions in Italy to the constitutional referendum has been worse than what happened immediately after the shock of Brexit, and the country is braced for more turmoil to follow.
 Asian stocks are particularly suffering, the Chinese especially, as the Shanghai composite loses 1.4 percent and the Shenzhen 0.88 percent. In Korea, the Kospi (The Korea Composite Stock Price Index) is -0.37 percent, whilst in Tokyo the Nikkei stood at 0.82 percent.
 According to experts, the reopening of the stock exchange will be closely linked to that of government bonds, the first target of speculation. Before the vote, the  financial climate of Italy's banks was not bad, as it became clear that investors had moved very compactly -- Intesa increased by 5.4 percent, Unicredit and Banco Populare 5.6 percent. Indeed the euro has recovered some ground since its dramatic fall in the early hours, almost back to pre-referendum level.
 Italy's bank shares, however, remain volatile. In the wake of the 'No' win, investors and analysts now fear political and financial instability, potentially pushing the euro zone in the direction of another crisis.
 sw