Renzi announces resignation after huge referendum defeat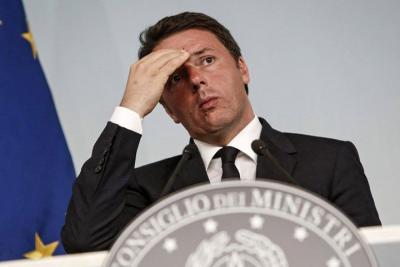 ROME -- Italian Prime Minister Matteo Renzi said Monday he will offer his resignation after polls showed the 'No' campaign winning Italy's high-stakes referendum by a huge margin. Exit polls showed the No votes gaining with 56-60 percent and just 40-44 percent for the 'Yes' votes.
 "Tomorrow I will present my resignation," Renzi told reporters at Palazzo Chigi at a press conference held a short time after midnight. Renzi acknowledged defeat and thanked those who had voted 'Yes'. 
  In a diplomatic and dignified speech, Mr. Renzi said, "Today the Italian population has spoken, it has spoken in an unequivocal manner (…) and I believe this (election) was a great feast of democracy. (…) The turnout percentages were above all expectations. It was a feast that took place in the context of an election campaign marked with some controversy, but where, overall, citizens have returned to the Constitutional Charter, to the rulebook of the game, and I believe this to be very important and significant."
 The youngest Prime Minister in Italian history went on to state, "I am proud of the opportunity that Parliament, on the initiative of the government, gave citizens to express themselves regarding the matter of the reform. 'Viva Italy' does not sit by the window but chooses. Viva Italy participates and decides. Viva Italy believes in politics."
 Mr. Renzi congratulated the opposition on their triumphant win, saying, "The No vote won cleanly, and to the leaders of the No front I give my congratulations and best wishes in the interest of the country, of Italy and of the Italian people."
 The defeated leader then directed his speech towards his fellow 'Yes' campaigners: "Friends of the 'Yes' vote, who shared this dream of reform, an exciting electoral campaign, I would like to give you a strong, affectionate embrace, each one of you. We tried, we gave Italians a chance to clear and simple change. But we did not make it, we could not convince the majority of our fellow citizens – we got millions of votes, and these millions were impressive but insufficient (…)
 I take full responsibility for the Yes defeat and I say to my friends that I myself lost, not you."
 After thanking his wife and children, "for having endured the fatigue of these one thousand days," Renzi concluded, "Long live Italy, good luck to you all."
jp