'Harry Potter in concerto': Truly spellbinding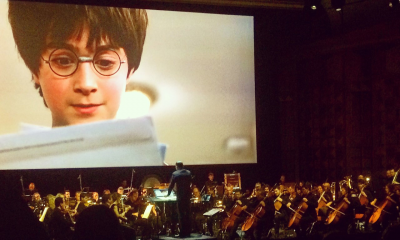 'Harry Potter e la pietra filosofale' acccompanied by the Italian Orchestra of Cinema
 ROME -- The critically acclaimed Italian Orchestra of Cinema performed Academy Award winner John Williams' mesmerising score Friday night to the packed audience of Auditorium Conciliazione as part of the much-awaited 'Harry Potter in concerto' premiere.
 Arguably the most beloved tale of our time, 'Harry Potter and the Philosopher's Stone' has captured the imagination of readers and viewers from all generations and indeed all nations since the novel first appeared in London bookshops back in 1997.
 On Friday night in the Eternal City, 15 years following the premiere of the first film in the beloved series, the enchanting story of the humble wizard and his trusty pals, dubbed in Italian with Italian subtitles, was played in high definition on the big screen and accompanied by a truly magical twist -- an on-stage live band.
 As the violinists and cellists tuned their instruments before the performance commenced, young fans of J. K. Rowling's lovable characters toddled around in magician costumes and witches' hats trying to find their seats, followed close behind by parents and grandparents (some of whom were also dressed for the part).
 Welcomed to the stage with an enthusiastic applause, conductor Justin Freer, founder and President of CineConcerts, took his place. From the first note of the haunting prologue, instantly recognised by millions of avid Potter fans across the globe, the audience was entranced, transported alongside Harry and Ron on the Hogwarts Express to the legendary school of 'Witchcraft and Wizardry' we all know so well.
 I cannot deny my initial concerns, however, that the performance would essentially be a showing of the same film the world has watched over and over again since its first release. Would much really change with the presence of an on-stage orchestra?
 The answer, without question, is yes. In watching, simultaneously, the on-screen picture and the musicians below, one comes to realise the significance of such a spectacular score in the making and delivery of the film itself.
 Each iconic scene was climaxed by Williams' sensational theme tunes, every one a masterpiece, flooding the auditorium in dramatic symphonic explosions. After all, the production is first and foremost a concert. To say it made my spine tingle would of course be cliché, yet entirely true.
 And so, as the audience left the theatre, pouring out onto Via Conciliazione with the breath-taking backdrop of St. Peter's Basilica behind, it was clear we all remained somewhat under the spell of such an unforgettable experience.
 An event for all the family, 'Harry Potter in concerto' continues at Auditorium Conciliazione:
 Saturday: 3pm & 8pm
 Sunday: 6pm
 Info and booking: www.ticketone.it
 sw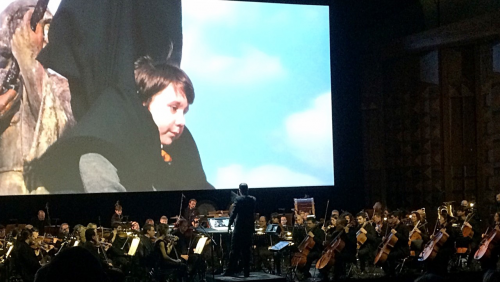 Each iconic scene was enhanced by John Williams' award winning score