Tensions run high in political world before referendum vote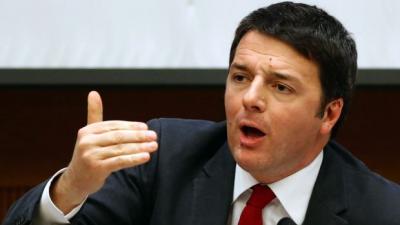 PM Renzi leading the Yes campaign
 ROME -- As tensions run high in the political world Wednesday ahead of the Dec. 4 referendum vote for or against constitutional reform, Italian Prime Minister Matteo Renzi stresses the importance of the vote as an opportunity for change.
 The Prime Minister Renzi attended an online video-forum at Il Messaggero, in which he said that "a Yes vote is not a vote in my support," adding that "we are voting to make the country more stable."
 He stressed that the "reform is a one-off opportunity" and called on "citizens to follow the content, not parties." The Italian Finance Minister Pier Carlo Padoan stresses that a No would block the reforms.
 The German Finance Minister Wolfgang Schäuble has endorsed the Yes front, while the European Central Bank admits to having a rescue plan to mitigate market shocks by purchasing Italy government bonds in case of a No result. The European Commission Vice President Valdis Dombrovskis reminded, however, that the budget will be at risk whatever the result.
 There is now a final rush to win over the 20 percent of undecided voters, as it is these voters who will determine the success or failure of Renzi's Yes campaign. The reform minister Maria Elena Boschi has called for a fresh renewed effort over the next few days -- pushing to bring the campaign down to the streets, bars, schools, supermarkets etc., La Stampa writes.
 La Stampa has also published a report on attitudes towards the vote in schools across the country, where reporters have found that attitudes are hugely mixed, but that most students agree on one aspect -- that they absolutely need to turn up to vote. For over 500,000 Italian newly-turned 18-year-olds, this referendum will be their first time voting.
 "Thanks to school, we are prepared for this referendum, we know that it is a fundamental topic for the future of the country, but we are worried that the majority of voters have not informed themselves in the way we have over the past few months," said the over-18 students from a 'Liceo Scientifico' school in Turin.
 Pierluigi Bersani, the secretary of the democratic party has said enough of this alarmism -- Renzi should state that any banks at major risk will be saved by the State. Even if the reform fails, the government should go on -- indeed it is still a "technical" government as no one really voted it in.
 The Italian politician and journalist Antonio Polito, columnist for Corriere della sera, writes that Renzi is right in relying on the vote of the so-called "silent majority," those who are always afraid of any sudden and radical change. Among these, many have in fact not yet made up their mind, while most of those who have already decided will vote 'No,' Il Corriere della sera reports.
 nkd