Simon Finn, troubadour, cultural messenger, charms Poland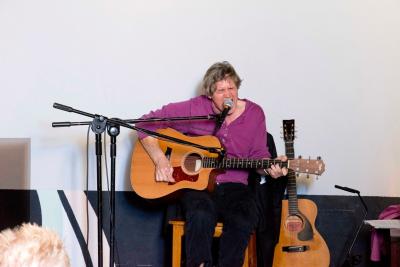 Simon Finn at the Baza Club, Krakow, Nov. 28. Photo credit: Marek Dworzański
 KRAKOW – As Theresa May received her equally dour Polish counterpart in London, it fell to the enchanting Anglo-Canadian psyche folk troubadour Simon Finn to bring a haunting musical message of friendship to Poland from Britain. It was a dazzling performance that confirmed Finn's position as the outstanding heir to his Montreal mentor Leonard Cohen.
  Finn made a rare and powerful appearance at the Baza Club in historic Florianska street Monday night, pounding out 18 songs in an hour in the second of two Polish concerts scheduled as part of a quixotic, one-crooner mission to counter the racialist propaganda against eastern Europeans and the poor Polish plumber that lurks on the ugly fringes of UKIP and its far-right proto-fascist circles. Fuelled by a few gallons of inspiring Polish ale, Simon immediately grabbed the throng of elegant young Poles' attention with his opening number, the classic 1970 melancholy ballad "Silent City Creep" evoking the Kafkaesque stranger who was "lonely as a sparrow among quails, lonelier than Cain ..."
 While they were still bothering their blonde heads with that, the enigmatic troubadour followed up with the lighter "Loitering is allowed," before making the stunning double-whammy a hat trick, producing his mission statement for Poland with an emotive rendition of Friendship, to my mind perhaps his best song ever, in which a metaphysical Finn harks back to his time spent living homeless on the streets of London, a habitat where false friends have no value compared to those who "will be there for you when hardship calls your name" – a poignant message not lost on his audience in a country that could be said to have suffered from false friends more than most.
 Having established where he was coming from, there was relaxation with the golden oldie "What a Day" from 1969 recalling the young bard who made his name in the Marquee Club at the height of the flower power era, only to hang up his guitar soon afterwards when he headed for Canada to perfect his poetic technique under intermittent tuition from his friend Cohen in the pool rooms of Montreal.
 Most young people in Krakow have excellent English and they clearly enjoyed digesting his verbal pyrotechnics crammed with double entendres such as the next offering, a brand new song with a timely vision of a "world on the run," which was followed by the clever 'En passant," flung out "for anyone who plays chess," which echoes Pink Floyd bolshie lyricism "welcome to the game, we are soon about to start, your plots have all been laid," ending with the advice recalling that Simon is, after all, a public school man steeped as, we all were, in fair play:
 "Resign with fair grace when it's time for kings to rest, bear no ill will, it's time to wish your enemy the best."
 Connoisseurs of vintage Finn then were treated to Walkie Talkie, "more relevant now than ever," with its autobiographical reference to the mysterious sergeant major tasked with tutoring the boy Simon. Next it was Big White Car, another 1969 protest classic again evoking the pride of true artists who live on the streets, "don't expect me to get in your big white car."
 Its' bellowed refrain tested the small club's acoustics to the limit, leaving the audience wondering how their ears would have fared if Finn had performed with a back-up band rather than solo, a de luxe experience that fans might have caught in recent concerts in Copenhagen and the UK and which Polish impresario Marcin hopefully will arrange so that Simon can seduce more of Poland soon.
 Second half songs included a rare positive love sonnet 'wanting you,' before Finn belted out the signature  hit "Accidental Life" musing how "on some days it seems that we are part of some higher purpose, that honesty might pay, but today is not one of those days."
 Dark lyrics in that unsurprisingly have led at least one reviewer to see something sinister in Finn's poetry, and who could deny it. "A rope can fray, cables can snap, a rope can take you under … accidents start early, you can find your mother crying, you can find your father gone."
 It is indeed, after all, "a funny old world we live in … while the broken-hearted keep their hearts on ice," leading Simon to his classic "Once Love's moved on its way," and what he termed "a delightfully long dirge on the nature of Eros."
A fine evening sheltering from sub zero temperatures outside was climaxed with "Golden, Golden," an ode to the beautiful people we once thought we were in England 40 years ago, before Finn ended up with a jocular new song, "White Elephant," asking us if we are relevant, and reminding us of the sublime nature of this dedicated visionary's increasingly apposite art.
 jp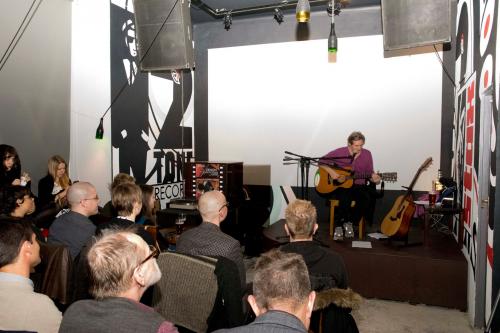 PHOT CREDIT: Marek Dworzański