Artistic splendour of '100 Nativities' returns to Rome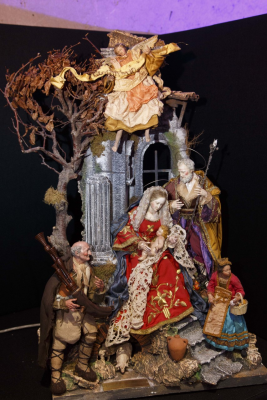 An example nativity scene on display
 ROME – The historic international exhibition '100 Nativities,' labelled as one of the six 'best things to visit at Christmas time' by The New York Times, is returning to the Eternal City in the Bramante Room of Piazza del Popolo.
 The show shall remain open until Jan. 8, 2017, from 10am to 8pm (including Sundays and holidays).
 '100 Nativities' became an initiative of high quality craftsmanship and is proud to display 150 new mangers and nativity scenes this year. Originating from 13 Italian regions and 40 foreign countries, these displays are works of artistic splendour, either classical or fantastical, made with traditional materials from the various corners of the world and representing nativities from across the globe.
 The cribs are made from a range of materials: terracotta, hand-painted or majoilica tile, carved linden wood, baked clay, raku ceramics, plaster, cardboard, cork, African mahogany, Baccarat crystal, glazed pottery, brick, horse hair, copper wires, straw, hemp, gold leaf, earrings, mother of pearl, bamboo leaves, palm seeds, bark, pasta and rice, corn leaves and, finally, one other special material -- a great imagination which enchants both young and old.
 A part of the exhibition, as organised each year, the workshop for children 'The Nativity as a game' allows younger participants, accompanied teachers and students of the Fine Arts of Rome Academy, to build characters from the nativity scene which they can then take home with them.
 This year sees special attention paid to those affected by the earthquakes in central Italy. During the opening ceremony of the exhibition, the children of the Nursery school 'Giuseppe Mazzini' prepared a live nativity scene dedicated to quake victims. On this occasion also, supporting the harvest of the Lazio region shall be encouraged through the possibilty of donating, advertised throughout the period of the exhibition.
 Info and contact: info@presepi.it
 Website: www.rivistadellenazioni.it or www.presepi.it
 Facebook Official Page: "Rivista delle Nazioni e 100 Presepi"
 Twitter : rivista delle nazioni
 sw