Italian blues winner heads to Memphis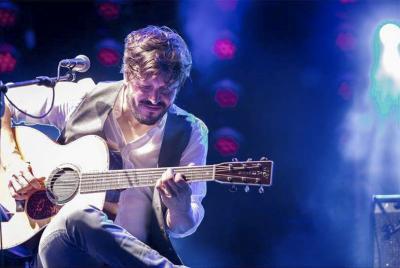 Hubert Dorigatti, a guitarist from Bruneck of the South Tyrol region
 MEMPHIS – Hubert Dorigatti is the Italian national winner of the International Blues Challenge and shall represent Italy in the grand final in Memphis, USA, from Jan. 31 until Feb. 4 2017, supported by the Blues Foundation.
 The organisation of the national finals have been a result of a long-standing collaboration with one of the most prestigious blues festivals in the world, the Deltablues festival in Rovigo, organised by the Rovigo Festival Company, and also the Rootsway Festival in Parma.
 Hubert Dorigatti, a guitarist from Bruneck of the South Tyrol region and trained at the Conservatory of Vienna, was awarded by the panel over the two nights of the Deltablues festival in the Santa Maria Maddalena park in Occhiobello.
 It was not an easy choice for the judges, having to select just one winner from a group of musicians of the highest level. Claudio Curina, president of the Rovigo Festival Company and artistic director of Deltablues, said, "They were all absolutely amazing… This shows that here in Italy there's a rich variety of blues music talent, also just as credible on the international scene."
  Dorigatti triumphed over GiutarBo from Venice, The Poor Boys from Reggio Emilia and the Three Country Gentlemen of Bergamo. He is certainly not a blues veteran, given his youth, but the vast range of songs in his repertoire and the great distance covered by his exhibitions prove a long musical experience.
 After having put forward various personal projects, such as the 'Bayou Side' folk duo he established, and the recent tribute project to Bob Dylan together with singer Laura Willeit, Dorigatti decided to return to the comfort of his musical roots -- blues -- gaining inspiration from artists such as Big Bill Broonzy, Robert Johnson and Lightnin' Hopkins.
 The artist takes a harmonica and a stompbox with him when touring, sharing his original mix of traditional blues music with touches of country and folk.
 sw