Gommorah author wins PEN/Pinter International Writer of Courage award.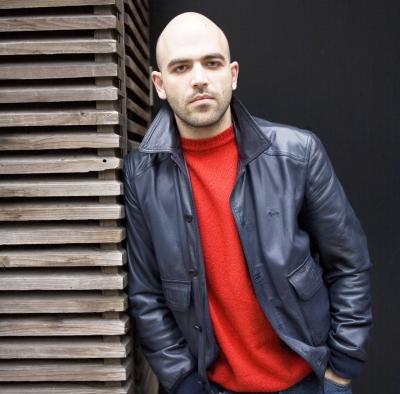 Roberto Saviano has spent the past 5 years in hiding. Picture by Leonardo Cendamo
By ALYX BARKER
ROME -- Italian writer Roberto Saviono, author of Gommorah, is the PEN/Pinter writer of courage 2011. He shares the PEN/Pinter prize with Sir David Hare.
 Saviano, born in Naples, received death threats after publishing a book which detailed the corruption of the Neapolitan mafia, the Camorra, exposing its influence and business network. He has been living in hiding since October 2006.
 The book 'Gomorra' has been translated in 53 countries, and sold more than two million copies in Italy and up to four million around the world.
 The book inspired a play of the same name which won the 2008 Olympics of Theatre for Italy's best new writer, and also a film, also entitled Gomorrah, which won the Grand Jury Prize at the Cannes Film Festival.
  The PEN/Pinter Prize was established in 2009 in memory of the Nobel-winning playwright Harold Pinter. The Prize is awarded annually to a British writer or a writer resident in Britain of outstanding literary merit who, casts an 'unflinching, unswerving' gaze upon the world.
  The prize is shared with an imprisoned writer of courage selected by English PEN's Writers in Prison Committee. This half of the prize is awarded to someone who has been persecuted for their literature.
 Sir David Hare was presented with the Pinter prize at a ceremony in the British Library last night (Monday), where he announced Saviono as the writer of courage.
 Sir David co-founded the Portable Theatre Company and the Joint Stock Theatre Company. He became an Associate Director of the National Theatre in 1984. Notable plays include; The Absence of War, The Permanent Way and Plenty. He was knighted in 1998 and is a Fellow of the Royal Society of Literature.
 Harold Pinter's widow, Antonia Fraser, former President of English Pen and now Vice-President said: "In the course of his long, distinguished career, David Hare has never failed to speak out fearlessly on the subject of politics in the broadest sense."
 When he announced Saviano as the writer of courage, Sir David said: "Roberto Saviano took on the Neapolitan mafia, first in the novel Gomorrah and then in the film made from it.  He did so at great risk to his own safety. My hope in sharing my prize with him is that a measure of recognition from PEN may, in however small a way, make his life easier."
 Lady Antonia commented: "Harold would be proud to have his name associated with two such marvellous writers, each of whom speaks out courageously in his own sphere."
 Roberto Saviano sent a message expressing his thanks: "My gratitude goes to those who made it possible that my words became dangerous for certain powers that need silence and shade, and to those who assimilated them, bearing witness that they belong to everybody.
 "when you feel that so many need to see, to know and to change, and not just to be entertained or comforted, then it is worth it to carry on writing."