MPS announces branch closures and huge redundancies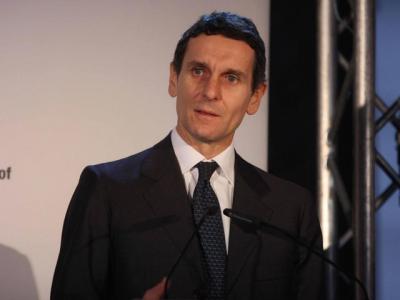 Marco Morelli, CEO of Monte Paschi di Siena
 SIENA -- The Tuscan bank Monte Paschi di Siena (MPS) has announced a closure of about 500 branches all over Italy, and over 2,600 staff layoffs in a stab for "greater efficiency" and "capital increase" the bank said Tuesday.
This oldest Italian bank's new industrial plan "will focus on greater efficiency by means of a staff reduction of over 2,600 workers," the transfer of remaining staff to commercial activities, and the closure of around 500 branches, MPS said.
 "The cost of the personnel will be reduced by nine percent to 1.5 billion euros in 2019 from about 1.6 billion in 2016," explained the bank. The stock market is witnessing a rollercoaster ride, fluctuating between holding back in suspense and intense trading.
 The 2016-2019 MPS plan predicts a "net profit of about 1.1 billion euros, with the return on tangible equity target over 11 percent despite prudent income growth."
 The institute said that the operation "is without precedent for the structure and dimension of the Italian market, and it should allow the bank to be able to position itself again, with greater force, between the leading institutions of the Italian banking network, with a solid balance sheet, a reduced risk profile, a significantly improved credit quality, and a renewed potential for profitability growth, which benefits all the shareholders."
 The company board of directors has called an assembly Nov. 24 in order to approve the increase in capital of up to 5 billion euros. The capital increase "would ideally be in motion from the first seven to eight days of December -- if the market has the right conditions, that is the objective," said Marco Morelli, the CEO of the Tuscan bank.
 The increase in capital will be structured into three components -- one part to be destined to those holding bonds, one part for the bank "reserved for possible cornerstone investors," meaning those free to purchase a significant involvement in the bank, and finally another part for the bank that could be destined on request to the current shareholders.
 The group of banks that are helping MPS to grow its capital, led by JP Morgan and Mediobanca, will commit to guaranteeing the unexercised shares only in the case of success -- on the one hand, "of the deconsolidation" of the 27.7 billion of unpaid debts, and on the other, "of the marketing activity in relation to the institutional investors," including the anchor investors and the recipients of the proposal to convert shares into bonds.
 nkd