Francesco Patierno presents Naples '44 in Rome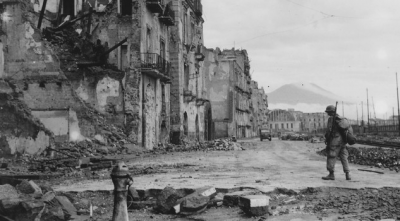 ROME -- Director, screenwriter and author Francesco Patierno presents the heart-wrenching documentary Napoli'44 at the Festa del Cinema of Rome this week.
 The film is inspired by a the homonymous best seller written by Norman Lewis (Adelphi Editors 1978) that tells the story of a British officer who witnesses the pain and destruction of World War Two in Naples when he enters the city in 1943 with the American army. Noting down his observations and emotions for the following year to come, the Englishman comes into contact with the city and its people, whose dignity and humanity he learns to understand and admire.
 As a native Neapolitan, the director takes Lewis' world famous notes and turns them into a timeless look into the bitter truths war brings to a city with an imaginary protagonist who returns to the Parthenope city.
 In a rhythmic dance between past and present, the audience participates and feels the rubble, hunger and despair left behind the bombs dropped by the enemy.  
 For almost a year, a meticulous team put together by Patierno, travelled around the world to find bits and pieces of millimetre film stashed away for decades and decades, successfully piecing them together in what has been described by the Director of the Festa not as a 'documentary', not as 'history', but as 'cinema'.
 Picking out never seen before footage from the USA and London, Napoli '44 lets viewers in on the heartbreaking life around the most massive bombardment and annihilation on Italian soil during World War Two.
 Images of Naples, its destroyed streets and starving population become a mirror for all wars, with often times difficult to place black and white photography, were it not for the majestic Vesuvius volcano in the background, that has an uncanny resemblance to the colour images we are used to seeing just about every day on the news.
 Inspiration for the film comes from a trip Patierno took with his dad from Rome to Naples years ago. He explains that: "to understand what it really felt like to be so close to losing his life due to a nearby bomb, my father told me to read Napoli '44. Even before reading it, something hit me and I knew it was the right project to carry out," concludes the artist.
 Lewis' book gives readers an observer's view of Naples. "Reading the book is like a self-analysis: it lets you see what has always been right in front of you that you are not able to see," asserts the director. 
 The military official gives first hand testimony of what it means to survive during war: he witnesses the long queues of desperate citizens with emaciated faces pushing and shoving one another when allies come to distribute food; he illustrates the women ready to sell their honour for a can of food; he describes the population's desperate attempts to desalinate seawater.
 The retrieved footage chosen for the big screen brings Lewis' words to life in a poignant account of what it was like to be in Naples during the year 1944. 
 Jumping back and forth from black and white to colour in his documentary is not a new style for Patierno. Pater Familias (2002) also includes many flashbacks. In a mix of super8 images that intertwine with 16 and 35 mm, the director seems to successfully play with new and old footage insertions. 
 The documentary is a Dazzle Communication production created together with Rai Cinema, in association with Istituto Luce Cinecittà and is the newest edition to the director's list of work that includes his first short film Quel Giorno previewed at 53ª edition of The International Cinema Art Show of Venice followed by more than fifty other international events, Pater Familias (2002), the Italian adaptation of the Argentine format Mujeres Asesinas called Donne Assassine that premiered on Fox Crime in 2008 and author of the thriller-noir Il Giostraio, his first novel published in 2012 by Caracò Publishers.
 With the narrating voice of 40 year-old British actor and film producer Benedict Cumberbatch in the English version and Adriano Giannini for the Italian version, Patierno makes you relive the past in all its heart wrenching aspects, reminding you that war is war and convincing you that there's no forgetting. 
 The documentary Napoli '44 is scheduled to air on Sky TV in Jan. 2017. 
fb