ArtVerona explores the role of art in contemporary society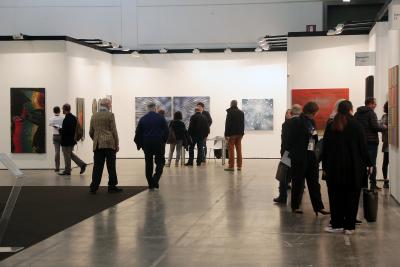 One of ArtVerona's many exhibition spaces. Photo Credit: Veronafiere
   VERONA -- The ArtVerona Art Project Fair 2016 that finishes Monday, explores the role of contemporary art with The Art Newspaper, said Veronafiere -- Verona's Exhibition Authority.
 'What's art for?' was the title of ArtVerona's inaugural convention, a selling exhibition with 120 galleries, 16 independent exhibition spaces and 18 magazines, which considers the role of art in modern society.
 The city's Art Project also made prizes and acquisition funds available, totalling 190,000 euros, in order to promote the network and appreciation of art.
 The exhibition project was opened Friday with speeches from the vice president of the fair, Guidalberto di Canossa, a city councillor in charge of culture, Antonia Pavesi, and Verona University's dean, Nicola Sartor.
 The focus of the talks was the consideration of the role of art in today's society, with interpretations from various people interviewed by The Art Newspaper, in its tour that went from London's British Museum, Saint Petersburg's Ermitage, New York's MOMA, and Rome's Vatican Museums, before arriving in Verona.
 "From education to personal growth, from an instrument for social evolution to a favoured path for dialogue, via a knowledge of one's own self -- art today moves the different spheres of the self with the objective of transforming and influencing the collective community," said Veronafiere.
 The 'What's art for?' project will also be carried on into next year thanks to the collaboration with Verona's Academy of Fine Art. The first and second-year students will be called upon to give their own personal responses to the question of what art is, and what effect artistic expression has on their own studies. Their responses will be revealed at the end of the 2016-17 academic year.
 nkd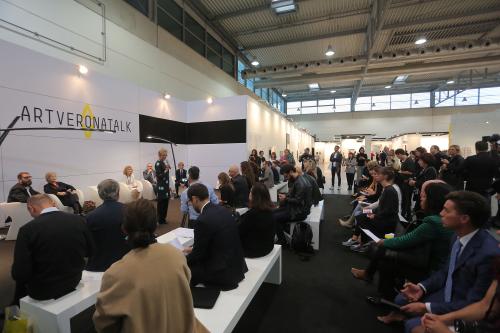 The 'What's art for?' convention. Photo Credit: Veronafiere