Inspirational figures win Mediterranean Culture Prize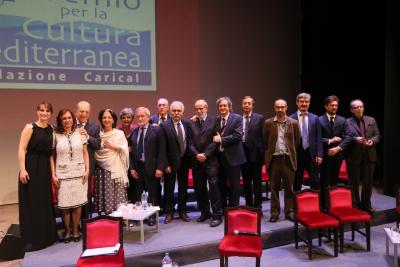 Group photo of prize-winners and jury
 COSENZA --The Carical Foundation -- a bank based in Calabria and Lucania -- celebrated Friday, the 10th anniversary of its Mediterranean Culture Prize, with its yearly prize-giving ceremony, which 2016 saw filled with inspirational speeches, live music, dancing and the general promotion of dialogue between the rich and diverse cultures of the Mediterranean.
 'The Mediterranean Culture Prize -- Carical Foundation' was held Friday at Calabria's impressive Redano di Cosenza Theatre at 5:30pm, introduced by the President of the Carical Foundation and founder of the prize, Mario Bozzo, advocating "dialogue, hospitality, peace," as the values behind the creation of the award in 2006.
 Bozzo said, "After 10 years we are able to say that our original gamble has paid off. We wanted a prize that was different to those which saturate the local and national landscapes, and we managed it."
 The prize is unique because of its seven-section structure, all held together with the central theme of creating a space for the mutual respect and dialogue between the cultures of the different shores of the Mediterranean, which can often ignore each other or slip into conflict.
 As the Iranian intellectual, Mohammed Ali Amir-Moezzi, who was awarded this year's Prize for Human Sciences, said referring to the Sunni--Shiite conflict during his speech, "the only antidote to conflict is culture."
 Moezzi, who studied in Paris and is now considered one of the world's leading experts in Shiism, said that, religion is "not an absolute," as can be made out by leaders who wish to exploit religion to manipulate followers -- rather, it is through the "internalization of religion, and most of all the personal spirituality of religion, and culture, that the only antidote to terrorism can be found." Hence the vital importance of the promotion and celebration of culture, education and dialogue.
 This idea was reiterated by the Iranian journalist and writer Fariba Hachtroudi, who was awarded the Prize for Information Culture. Hachtroudi also studied in Paris, and lived through student uprisings there, which were then transposed into an Iranian context for her, with the Iranian revolution.
 She said that her dream was for "every young girl, even in the smallest, remotest part of Iran, to be able to have access to books" and the richness of culture that she had had access to while growing up, in a family of liberal intellectuals. "Behind every feminist there is also a man who gives her courage," Hachtroudi said, referring to her father who encouraged her to see herself as an individual instead of just a manifestation of her gender.
 Hachtroudi said that she will donate a large part of her prize money to a school in southern Iran that helps to provide an education for street children.
 The Albanian poet and writer Ismail Kadare who was awarded the Prize for Civil Society, also reflected on this similar theme, saying that literature and "writing is the enemy of dictatorships," reminding how writers were killed and tortured in China's communist dictatorship.
 Truly in the prize's spirit of promoting dialogue, Kadare and a member of the jury -- David Meghnagi, professor of psychology at Roma Tre University -- began a short impromptu debate about the role of literature in politics, and whether it has ever had the power to create a mass political movement.
 According to Meghnagi, it cannot fully do so -- rather "the role of the writer is to dig, with awareness of the fragility of his voice, but also knowing that he is speaking to the future," a complex, multi-layered dialectic. However, Kadare, having created literature in order to speak out against the communist government in Albania, seemed to differ slightly in his views.
 The prolific contemporary writer Niccolò Ammaniti was awarded the Narrative Prize for his latest novel 'Anna,' published by Einaudi. When asked what the key to his enormous repeated success was, he replied saying that he still did not know, but that "perhaps I was born as a reader rather than a writer, and I write the books that I would love to have read."
 The writer and journalist Niccolò Zancan won the Young Narrative prize for his first work 'Ti mando un bacio,' a touching work about single fathers. This was uniquely judged by about 400 students from this southern Italian region, who were moved by his story and also participated in the ceremony.
 The Translation Prize was won by Alessandra Shomroni, an expert in Hebrew culture, who has translated works by some of the most important Israeli writers and intellectuals into Italian, amongst which feature Abraham Yehoshua and David Grossman. She talked of translation as being an art of subtlety, in which one has to learn "not to impose one's own voice onto the voices of others," and in which one has to learn to "work in the shadows."
 The special prize for the presidency of the region was awarded to the mayor of Riace, Domenico Lucan, who also forms part of 'Fortune' magazine's 2016 list of people who are changing the world. He has opened up the abandoned houses of Riace, previously a little town inhabited by about 400 elderly citizens, to a group of Kurd migrants who landed by chance on these shores. Now the village has 2,000 inhabitants, and has a lively, active, creative population once more.
 Lucan has set a leading example in relation to Europe's migrant problem and has done so using possible solutions that promote a welcoming attitude -- dialogue, peace and hospitality, over prejudice, fear and ignorance.
 He then modestly and hurriedly rejected the prize money on stage asking that it be given directly to the central-Italian regions recently devastated by the earthquake, before heading off back to his mayoral duties that called.
 The ceremony closed with a rendition of Louis Armstrong's 'What A Wonderful World,' by a local school choir -- Calabria's future generations, bearing true testament to "a different Calabria, a Calabria of honest people, of studious people. It is in this way that we want to depict Calabria," said Bozzo.
 nkd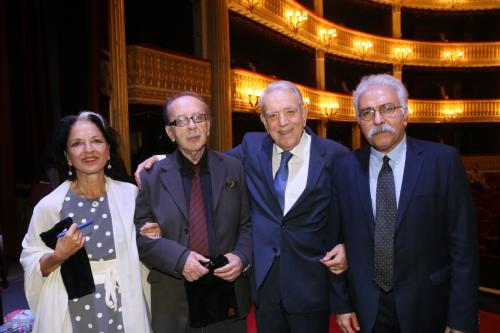 Fariba Hachtroudi, Ismail Kadare, Mario Bozzo and Mohammed Ali Amir-Moezzi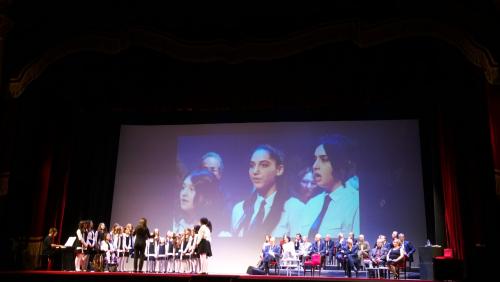 A local school choir closing the ceremony with 'What A Wonderful World'