Ryanair bets on southern Italian beauty for Brits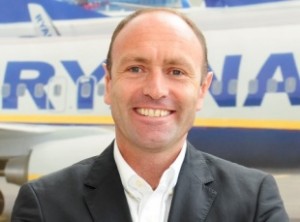 Kenny Jacobs, Ryanair's Chief Marketing Officer
 ROME -- Kenny Jacobs, Ryanair's Chief Marketing Officer, is banking on Italy's south as a major new tourist destination particularly for Brits, even post-Brexit, 'La Repubblica' wrote Thursday.
 "Italy has numbers that can only improve -- we are ready to bet on the south, on Sicily and Calabria in particular, already over the next few months," said Kenny Jacobs, Ryanair's second-in-command, talking about the Irish airline company's third-biggest market in Europe.
 Today things are changing, writes 'La Repubblica' -- prices are remaining competitive but clients and profits are growing, even if Brexit and the collapse of the pound will force everyone, even this Irish company, to review their plans, especially their flights between the British Isles. The patron airline of the Italian skies is estimating 35 million passengers for 2017.
 "We look to Italy with great interest, where next year we will have 51 aeroplanes." The airline currently favours Milan, Bergamo and Rome as its hotspots, but now they are looking to Italy's south, "where there is an unvoiced potential that we want to liberate and assign value to, if the Italian government continues to help us with taxes, as it has over the last few weeks."
 "Sicily and Calabria are, in our opinion, the new frontiers for tourism and we are ready to satisfy consumers all over Europe, who avoid Turkey or North Africa for political reasons or terrorism. Tourism today tries to give alternatives to Spain, Portugal, Greece. New spots, full of sun, good food and beautiful people. The south is perfect."
 "Italy has unique places in the south. British people, even with post-Brexit prices that constitute a big question mark for everyone, adore Italy. Same as Germans. Except that we should shift their attention from places that have already been exploited, like Tuscany, to places with so much left to discover, like Calabria and Sicily, which today are worth 7.5 million passengers for us. We want to triple this figure."
 Ryanair's Chief Marketing Officer stresses that these figures have so much to do with marketing. People might choose the south of Spain over the south of Italy at the moment because the Bel Paese's "beauty is probably not 'sold' as well abroad," but Jacobs is confident that "this can take off."
 nkd