Kuwaiti ambassador congratulates new captains regent
San Marino's Council Guard
 SAN MARINO CITY -- The Kuwaiti Ambassador to Italy and to San Marino, HE Sheikh Ali Khaled Al-Jaber Al-Sabah, took part in the turning of the reins of power to San Marino's new dual rulers (also known as Captain Regents) Marino Riccardi and Fabio Bernardi, the Kuwaiti news agency KUNA has reported. The Kuwaiti ambassador extended to the new rulers congratulations of His Highness the Emir Sheikh Sabah Al-Ahmad Al-Jaber Al-Sabah on their accession to power, wishing for both Kuwait and San Marino progress in their relations. 
 The two new rulers thanked His Highness for his sentiments, praising the nascent diplomatic ties between both countries which began last January. Landlocked San Marino is one of the world's smallest countries. Surrounded by Italy, it is an echo from an era when city-states proliferated across Europe.
 Mount Titano, part of the Appennine range, dominates San Marino's landscape. Three defensive fortresses perch on Titano's slopes, looking out to the Adriatic coast. San Marino is said to be the world's oldest surviving republic, having been one since AD 301.
 Tourism dominates the economy of the 61 square kilometre republic, which plays host to more than three million visitors every year.
 jp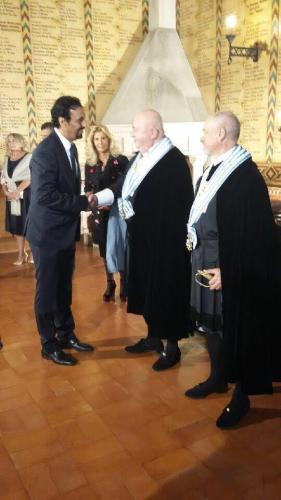 The Kuwaiti Ambassador congratulates the new Captains Regent