Italy 'doing nothing to attract foreign students'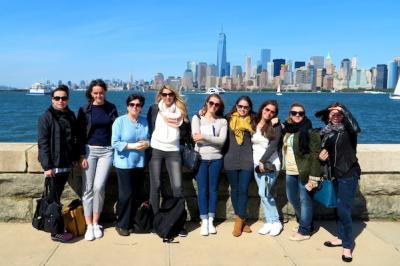 The economic crisis has taken effect upon scholastic foreign exchange programmes
 MILAN -- The eighth national report on the 'Internationalisation of Schools and Student Mobility' highlights that 84 percent of those who leave the peninsula to study abroad today have a degree and a brilliant academic record, making it much easier to find work, however, with recent cuts to the budget, initiatives of this genre are becoming less and less popular.
 In this current economic climate, the typical Italian school of today is restricted, hardly internationalised, bringing nothing to attract potential foreign students and less capable than ever of encouraging students to participate in a cultural exchange, a new report presented Monday in Milan states.
 Only 57 percent of schools can organise at least 'one excursion' abroad over the course of five years for an entire class of pupils -- a decrease of 14 percent compared to 2011.
 However, spending a period of time studying abroad has proven to be an invaluable experience. As well as analysing the statistics of the institutions which take in foreign students, the 'Intercultural Foundation' decided to entrust Ipsos (the leading market research company) with the task of consulting a cross-section of the thousands of adolescents who, between the 1977 and 2012, travelled abroad to study during the school year.
 Interestingly, 84 percent of those who left to travel overseas and today are over the age of 22 have at least one degree, privileging language and economic faculties, and have obtained a brilliant academic record.
 Overall, 34 percent of students do not remain in Italy but choose a tertiary title of study abroad. The period away from parents helps significantly in the formation of an independent private life, as 41 percent claim they now have a more mature perception of the world around them and better self-awareness.
 The experience also makes it easier to find work, as the report notes that the level of unemployment for such students is less than nine percent.
 Nevertheless, the process of intercultural exchange in Italy is slow. In the 2015-2016 school year, less than two thirds of high schools had signed up to Intercultural Exchange, a five percent decrease compared to 2014.
 Due to cuts to the budget and the enduring economic crisis the country faces, the scholastic system in Italy is suffering with regards to such courses of study abroad. The percentage of students abroad participating in work/study experiences has fallen to 64 percent, compared to 69 percent two years ago.
 To help towards the revival from this slump, two thirds of schools are taking part in the teaching of foreign languages in a non-linguistic method, (double the percentage of participating schools in 2014).
 However, the level of students from various other countries travelling to Italy to study has fallen and continues to fall -- only 2, 800 students this year, compared to 3, 200 only two years ago.
 sw