Fearful Italians in post-Brexit Britain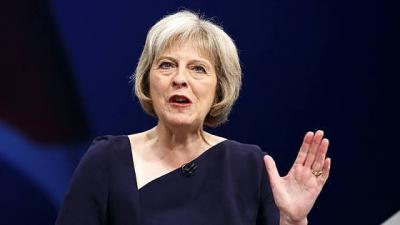 Theresa May at the Conservative Party Conference
 ROME -- Theresa May's desire for Britain to keep public tabs on all foreign workers in companies has sparked fears for the 3.2 million Europeans registered as living in the UK -- amongst which a huge number of Italians, many of whom are considering leaving, 'Il Messaggero' wrote Thursday.
 When Theresa May, in a speech to the Conservative Party Conference, Wednesday, referred to those who "believe to be citizens of the world but actually citizens of no place at all," this unfortunately includes the 2.2 million registered European workers out of the 3.2 million Europeans that live in Britain.
 Out of these, there are 290,000 Italian citizens living and working in the UK who are registered on AIRE -- the civil registry of Italians who reside abroad, although it is estimated that in reality this figure could be double. Many however, after uncertainty over extreme British policies on immigration post-Brexit -- heightened by British Prime Minister and Home Secretary, Amber Rudd's speeches on the topic Wednesday -- are considering leaving.
 'Il Messaggero' reports that some are considering transferring to different countries, and that some are even considering heading back to their native Bel Paese, especially to cities like Milan which is continuing to consolidate an international, dynamic reputation.
 Those who are most motivated to leave are Italian managers in the UK, for whom opportunities in Italy are now multiplying -- however, for young Italians, their entrance into the world of work continues to be easiest in the UK.
 Latest polls reveal that 76% of multinational firms are thinking about moving their headquarters out of the UK to other countries, 'Il Corriere della sera' reports.
 "We are taking care of an enormous increase in requests to sign up to AIRE, we now receive about 3,000 requests a month," said the general consul, Massimiliano Mazzanti, according to him because they want to regulate themselves seeing as danger is in the air.
 "Also requests from second generation Italians, who have British passports but wish to obtain Italian ones as well, in order to be freer to travel around the European Union," continued Mazzanti. They receive 2,500 of these passport requests per month.
 Massimo Fenati, an Italian writer, artist, cartoonist and television producer working in the UK, spoke to 'Corriere della sera' about this topic. On the idea of forcing companies to publicly catalogue their numbers of foreign employees, Fenati says that it is "pure madness, be it on an ideological or logistical level."
 "I understand that post-Brexit things must change, but a sort of blacklist for those who are no longer wanted implies a complete turnaround in relation the British attitude that is typically open and cosmopolitan," Fenati continued.
 "I can see us all already catalogued in a B-list -- London is a magnet that attracts excellence from all over the world. To want to forcibly purge it of those who do not hold a British passport is like giving creative industries a death sentence," the graphic artist concluded. 
 nkd