Messina mayor furious over Renzi bridge promise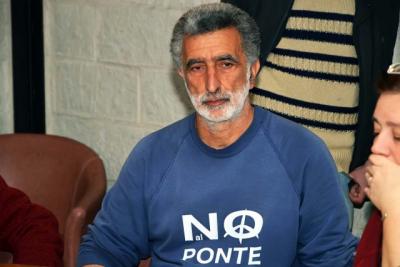 The mayor of Messina is strongly against the Channel Bridge promised by Renzi
 MESSINA -- The mayor of Messina, Renato Accorinti, is infuriated at Italian Prime Minister's "easy populism" in his empty promise to reopen the approvals for the Messina Channel Bridge construction, 'Il Fatto Quotidiano' wrote Wednesday.
 Matteo Renzi announced Tuesday in Milan, almost as a launch to his election campaign, that the Channel Bridge construction project linking Sicily to Calabria would create 100,000 jobs and tighten links between the two regions, moving towards his vision of Italy as a "gigabyte society."
However, the mayor of Messina, Renato Accorinti, does not look upon this act at all favourably. "I hope that what Matteo Renzi said is a joke, in fact it surely is one -- otherwise it is an unfair and offensive attitude," said the mayor in a phone interview to 'Il Fatto Quotidiano.'
 "I saw Renzi not long ago when he was in Calabria for the opening of the Terna power line and he said that he was not completely opposed to the bridge but that first the infrastructure was needed. So either his most recent promise is a joke or he is making fun of us," said the mayor.
 "Here we have railway system from the Second World War, with single tracks and that uses diesel. On the road from Messina to Catania, there was a landslide and the motorway is still disrupted. Messina and Catania -- two metropolitan cities that are no longer linked. What would have been done if a similar thing had happened in Turin or Milan? They would have sorted it out straight away!"
 "We need infrastructure to bring us out of the medieval ages and into modernity. But we need foundations to then be able to embark on further developments," the mayor continued.
 "Roads are useful, schools are useful, cultural works are useful. I am not against cement -- cement when used well can be a synonym of development. But what is the bridge actually useful for?"
 "As for the promise of jobs created, I have had enough of this theory. It is annoying and populist as well as false. Even making holes in the ground to then hire people to cover them creates work -- it is an offense to our intelligence."
 "A promise like that is an example of easy populism as in the collective psyche a 'new bridge' is always something positive. But what about all the public money that will be spent on it? And the earthquake risk that is one of the most dangerous in the Mediterranean?"
  "I can assure you that it will not ever happen. Renzi can say what he wants but a simple NO was enough from Virginia Raggi and the promise of the Olympics in Rome evaporated. I am the mayor of Messina and for years I have led the activists that have said NO to the bridge -- we started as just 10 of us and now we are 25,000."
 "And then what do they actually think they will resolve with this 3km-long bridge if the two regions being linked are places where there is absolutely nothing?"
 nkd