Indian 'outsider' for FAO top Washington post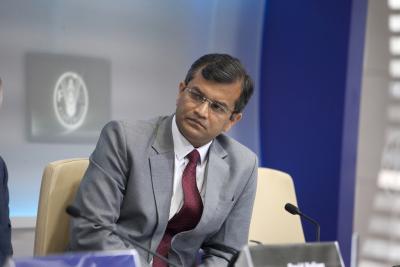 Indian former Permanent Representative to the FAO Vimlendra Sharan. Photo credit: ©FAO/Giuseppe Carotenuto
ROME -- Indian diplomat Vimlendra Sharan has been offered the job of heading the FAO's Washington liason office, meaning that the post would be held for the first time in recent memory by someone from outside the Rome-based UN agency, diplomatic sources said Tuesday.
 FAO Director General José Graziano da Silva disclosed his offer to Mr Sharan while visiting Washington last week during discussions with Barbara Ekwall, a Swiss former government official who is the interim Officer in charge of the liason office, according to the sources. If Sharan's appointment is confirmed it will be a disappointment for the U.S. State Department, where officials had hoped an American would be appointed to the job, given that the United States funds nearly 30 percent of the FAO but is heavily underrepresented among professional staff at the agency, the sources added.
 From 2013 to June 30, Mr Sharan served in the India Embassy in Rome as India's representative to FAO.  Along with fellow FAO Indian insider, Rakesh Muthoo, the deputy chef de Cabinet, Mr Sharan served on the powerful FAO Programme Committee – which oversees FAO budget and resources.  Additionally Mr Sharan was chosen to as an interviewee to provide input to the Independent Review of FAO Government Reforms.
The Washington based Liaison Office in North America is strategically and politically Rome's primary conduit to the US Government, Congress, American Agribusiness, and influential International NGOs.  Once considered the most important Liaison Office to FAO's and gateway to FAO's most significant donor and ally. However Mr Sharan's appointment would mean not a single American is employed in its management team.
 Mr Sharan would replace Ajay Markanday, also an Indian, but a FAO staff member, who has been transferred to South Africa. 
 Dr Graziano's disclosure of the 'offer' meant that it was a 'done deal' with Sharan highly unlikely to refuse the tax-free appointment, FAO watchers said.
Mr Sharan and WFP Executive Director Ertharin Cousin. Photo credit: WFP/Giulio d'Adamo