Francis challenges faith leaders over religious violence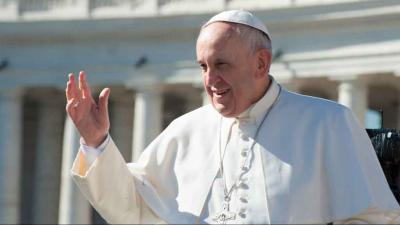 Pope Francis says that killing in the name of God is Satanic
 VATICAN CITY-- Pope Francis has always been at pains to distance mainstream religions from religiously motivated violence. When Father Jacques Hamel had his throat cut by Islamist terrorists while celebrating mass near Rouen in July, the Pope insisted it had nothing to do with religion.
 "The word we hear a lot is insecurity, but the real word is war," he said. "We must not be afraid to say the truth, the world is at war because it has lost peace… When I speak of war, I speak of wars over interests, money, resources, not religion. All religions want peace; it's the others who want war."
 He has spoken famously of a piecemeal World War III, fought over material interests, with crimes, massacres, destruction. Greedy financiers and arms traffickers were fanning the flames of conflict, in his view.
 But at the mass he celebrated for Fr Hamel in the chapel of his Santa Marta residence, he acknowledged the moral dimension of the crime head on, placing the elderly French priest in a long line of Christian martyrs stretching back to Christ himself.
 "This cruelty that calls for apostasy is, let's say the word, Satanic," the Pope told a group of Fr Hamel's friends and parishioners. "How good it would be if all the religions declared that killing in the name of God is Satanic."
 His words were a particular challenge to mainstream Muslim leaders, whose condemnation of Islamic State atrocities has often seemed weak and ineffectual. The cry of "Allahu Akbar" that rings out across Middle Eastern battlefields confirms that God is still being enlisted for bitter earthly wars.
 In an editorial published after Fr Hamel's death, the Observer questioned Francis' premise that the world was in the grips of a new, slow-burning, asymmetric World War, despite the appalling catalogue of atrocities that fill the news.
 "Figures compiled by the University of Maryland's Global Terrorism Database show that, in western Europe, the number of civilians killed as a result of terrorist acts has fallen sharply in recent years from peaks in the 1970s and 1980s," the British weekly wrote. "Even then, at the height of IRA, Basque separatist, Red Brigades, Baader-Meinhof and PLO activity, the annual toll numbered a few hundred. Current fatality levels in Europe are significantly lower, despite the rise of Isis."
 Perceptions are different, however, and Pope Francis admitted there were more people being martyred for their faith today than in the early years of the church. The ultra-informed populations of the modern world are inevitably anguished by the constant stream of medieval horrors beamed into their homes from the global battlefield.
 The Pope will need convincing and determined religious allies if he is to help persuade disenchanted Muslim youths, seduced by the glamour of violence, that no God or man should desire such destruction for humanity.  
 pw