Monte dei Paschi supremo Viola quits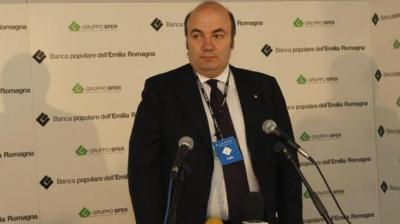 SIENA -- The CEO of scandal-plagued Tuscan bank Monte dei Paschi di Siena, Fabrizio Viola has resigned unexpectedly in the latest twist in the long-running saga involving a series of investigations into Italy's oldest bank, sources said Friday.
 Viola's resignation caught the Sienese bank by surprise, the Corriere della Sera said. However, sources in the Ministry of Economy insisted that the bank's situation is "all under control," and that the appointment of a new CEO will be sure to take place "shortly." 
 It is thought that the CEO most likely resigned after difficulties surrounding his role in an unexplained 5 billion euro capital increase. No statement has been issued from the Tuscan bank.
 An investigation by Siena's Public Prosecutor's Office to look into suspicions of market manipulation and false accounting within the bank relating to Viola and ex-president Alessandro Profumo, was set up in 2015, following discoveries brought to light by minor shareholders, councillors and various consumer's associations.
 The legal dossier was sent by Sienese officials to the Public Prosecutor's Office in Milan, this being more territorially competent to deal with the most serious accusation brought against the bank, which has rejected all charges against it, claiming that Siena magistrates are acting only "out of formality."
 Investigators believe that the bank's accounts from 2011 to 2014 misrepresented its assets, claiming them to be bonds rather than derivatives. Milanese officials are supposedly in the process of deciding whether Profumo and Viola should be put on trial.
 However, the bank's board acknowledged Viola's work over the four years he has worked for Monte Paschi, saying that he had "left the bank solid and in profit." They commended him for "the high quality" of his work "undertaken always in the interest of MPS."
 Viola said that he does not think that his resignation will "affect the bank's recovery plans." 
 nkd