NGOs slam FAO complicity in Venezuela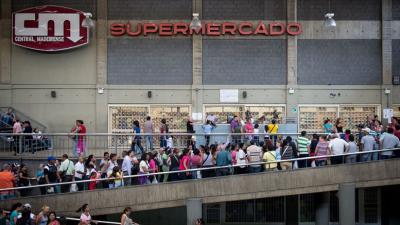 UN humanitarian agencies' silence in response to Venezuela's hunger
 ROME -- Fifty NGOs working in Venezuela have appealed to the Food and Agriculture Organisation and other U.N. humanitarian agencies to reverse their stance on the Latin-American country's widespread food shortages. In particular the NGOs singled out for scorn FAO Director General José Graziano da Silva controversially awarding the discredited Caracas government an FAO hunger-fighting award in June 2015.
 Amongst the other UN agencies that were subject to Venezuela's NGOs' indignation in their press release were equally well-regarded 'humanitarian' names such as WHO, PAHO, UNDP, UNPF, and UNICEF, according to 'UN Watch', a Swiss human rights NGO.
 All of these agencies, supposedly fighting to defeat hunger worldwide, seem to be yielding to Venezuelan president Nicolas Maduro's government, remaining strangely silent in the face of the often very pressing food deprivation of the inhabitants of this South-American country.
 "The UN says that it cares about social and economic rights, yet when it comes to Venezuela, UN agencies and officials have continuously helped the perpetrator instead of the victim," says Hillel Neuer, executive director of UN Watch.
 "It is simply absurd and immoral, and a betrayal of the UN's own values," Neuer continues, in relation to the FAO's hunger-fighting award given to the country in 2015. "Venezuelan media used the false UN recognition as propaganda to legitimize a regime that is responsible for causing a desperate food situation for millions of their own people."
 The press release made by the Venezuelan NGOs entitled "Silence of UN Agencies in Venezuela affects the health, access to food and dignity of the most vulnerable", begins by indignantly rejecting the current conduct of the various UN agencies stated above, especially considering the "context of rapid increase of poverty levels, economic and social fragility and political and institutional instability, in which the population faces massive and severe shortages of food, medicines and medical supplies across the nation and the lack of internal capacity to solve this situation in the medium term," they say.
 It denounces the Information Service of the United Nations' decision to suspend the briefing about Venezuela on July 15, 2016, due to an apparent lack of "information for a full-fledged briefing", according to its Director, Alessandra Vellucci.
 They deem this act as totally unacceptable in a climate where in Venezuela in 2015, "12.1% (more than 3 million people) reported eating 2 times a day or less, and 87% reported not having enough money to buy food."
 "In the first half of 2016, nutritional deficit reached 12% in urban areas, 19% in peri-urban areas, and 27% in poorer areas. In major hospitals in the country, cases of severe child malnutrition are reported, including diagnoses of marasmus and kwashiorkor," according to the NGOs' statement.
 These UN agencies have consistently been made aware of this Latin-American country's desperate health and hunger situation, for example, the FAO has been informed about this progressive deterioration the Venezuelan population's nutritional status, since 2012, yet still the silence continues.
 The press release issues a final warning that if the UN does not start to fulfil its humanitarian responsibilities in Venezuela, "irreparable consequences" will ensue in the already suffering country. 
 nkd