NORWEGIAN LINKS LAPLAND TO ROME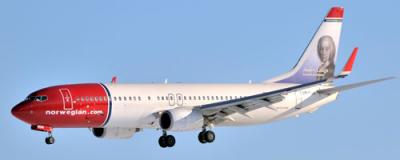 A Norwegian Boeing 737-800
 ROME -- Norwegian, Scandinavia's second largest airline, continues to expand in Finland and launches two new domestic routes from Helsinki to Kittilä and Ivalo, in Finnish Lapland, and one international route from Turku to Stockholm this winter. "We are very satisfied with the response in the Finnish market, both in terms of ticket sales and customer feedback. There is great potential in Finland, and as a growing airline it is an obvious next step for us to launch new routes this winter," said Chief Commercial Officer Daniel Skjeldam at Norwegian.
Three weekly flights will serve the Helsinki-Kittilä and Helsinki-Ivalo routes. Four weekly flights will serve the Turku-Stockholm route. It will be easy to link in the same day Rome to Lapland.
The Inari province controlled company, InLike Oy, contributes to the marketing costs of the new route.
Norwegian opened a base at Helsinki Airport in April, and currently serves two domestic routes to Rovaniemi and Oulu and 11 international routes to Stockholm, Oslo, Malaga, Nice, Crete, Rome, Barcelona, London Gatwick, Split and Alicante.